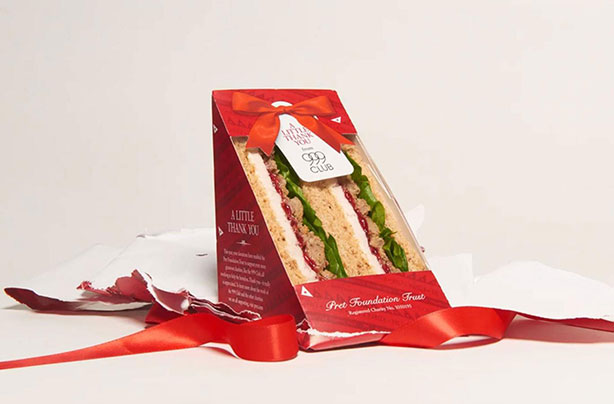 There's no doubt we all deserve a little indulgence during the festive period, but do you know how bad the high street Christmassy foods and drinks really are for you?

When Christmas carols start playing in the shops, it's easy to get carried away and swap your boring non-Christmassy latte or sandwich for the festive version. After all, what's a Christmas shopping trip without a pit stop for a nice and warm cup of gingerbread latte?


However, the amount of sugar and fat in some Christmas drinks and foods is truly shocking!
To make you aware of the hidden health dangers in festive foods, we've investigated and ranked drinks and foods from worst to not so bad - see below!
Christmas sandwiches
Sandwiches are the worst offenders when it comes to fat, so you'll see them ranked below in terms of their fat content from worst to not so bad. Get ready for some shockers...
Pret Brie and Cranberry baguette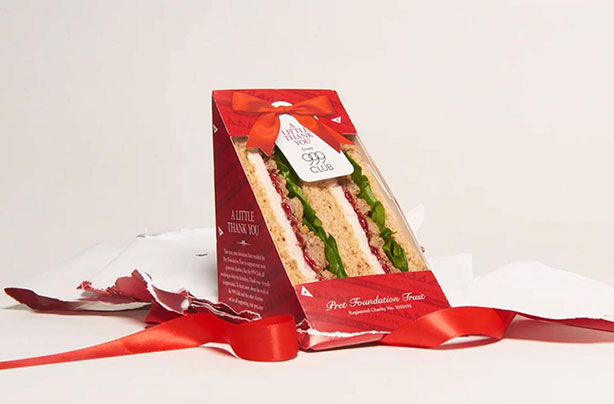 613 calories
28g fat
7.3g sugar
2.3g salt
Pret's Brie and Cranberry baguette is the worst offender in our compilation, with a staggering 28g of fat!
Sainsbury's Christmas Triple
646 calories
25g fat
11.6g sugar
2.54g salt
Sainsbury's festive sandwich with three solo triangles - a salmon and cream cheese, a turkey feast sandwich and a cheese and red onion chutney - will give you 25g of fat in just ONE meal!
M&S Brie & Grape with Ruby Port Chutney
508 calories
24.4g fat
13.4g sugar
1.85g salt
M&S's Christmassy option is worth over 500 calories and has a total of 24.4g of fat.
Asda Turkey wraps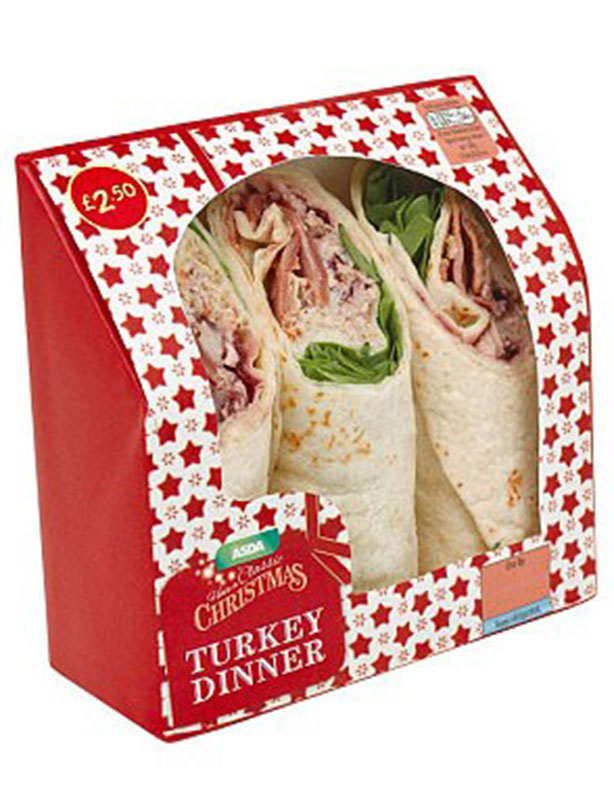 689 calories
24g fat
8.5g sugar
1.8g salt
Asda's trio of turkey wraps has over 20g of fat and nearly 700 calories, which is a lot considering NHS recommends the average woman should consume 2,000 calories a day.
Pret Christmas lunch sandwich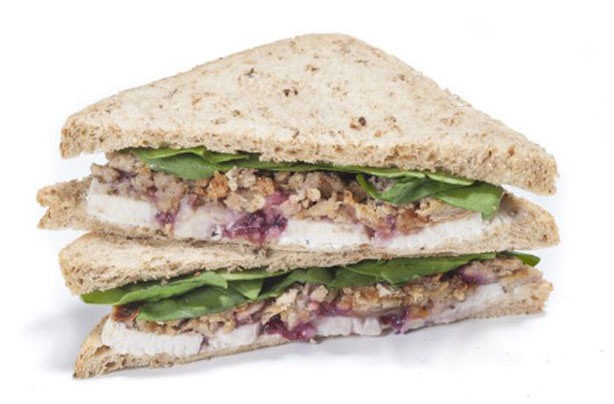 522 calories
19.3g fat
10.8g sugar
2.9g salt
One of the most awaited lunch foods of the season, this turkey and pork stuffing sarnie has little under 20g of fat. Maybe not one to have everyday until Christmas comes.
Pret beef Wellington baguette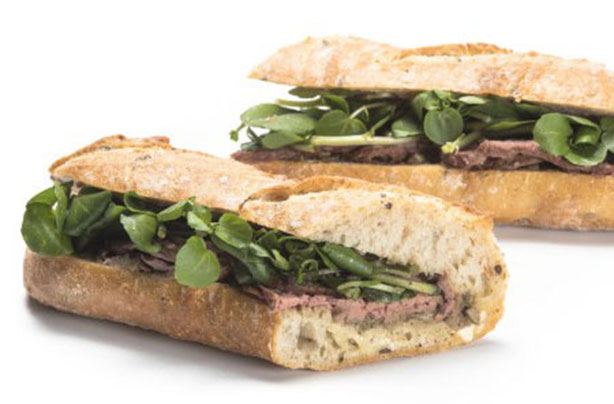 544 calories
18.6g fat
3.9g sugar
2.1g salt
Pret's newcomer beef Wellington baguette has slightly less fat than its famous sibling, but more calories - 544!
Crussh Christmas Lunch Sandwich
469.7 calories
12.5g sugar
18.4g fat
1.54g salt
Usually known for its 'fit' options, Crussh's festive lunch has a whopping 18.4g of fat. So not that healthy...
Greggs Christmas lunch sandwich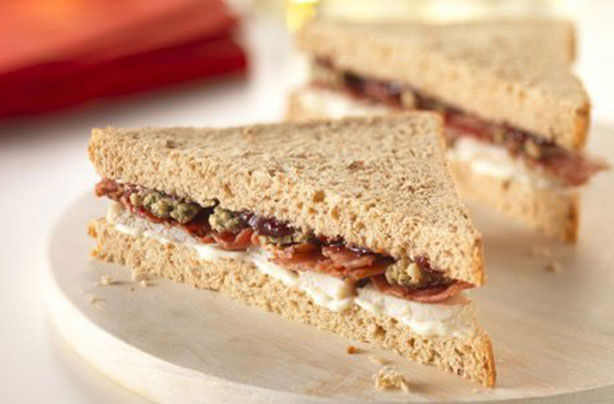 530 calories
15g fat
15g sugar
2g salt
A Greggs Christmas lunch sandwich is one of the not-so-bad ones in terms of fat but has the same amount of sugar - 15g.
Waitrose Christmas ham and chilli-lili
358 calories
8.4g fat
5.3g sugar
2.29g salt
Waitrose's Christmas ham and chilli-lili sandwich is the only one in our list which contains less than 10g of fat - well done Waitrose!
Christmas coffees
Some of our beloved Christmas coffees contain more than double the maximum amount of sugar recommended by the NHS, which currently stands at 30g per day but the World Health Organisation actually wants to see reduced to 25g.
See below for the ranking of Christmas coffees, from worst to not so bad.
Costa's Sticky toffee latte Massimo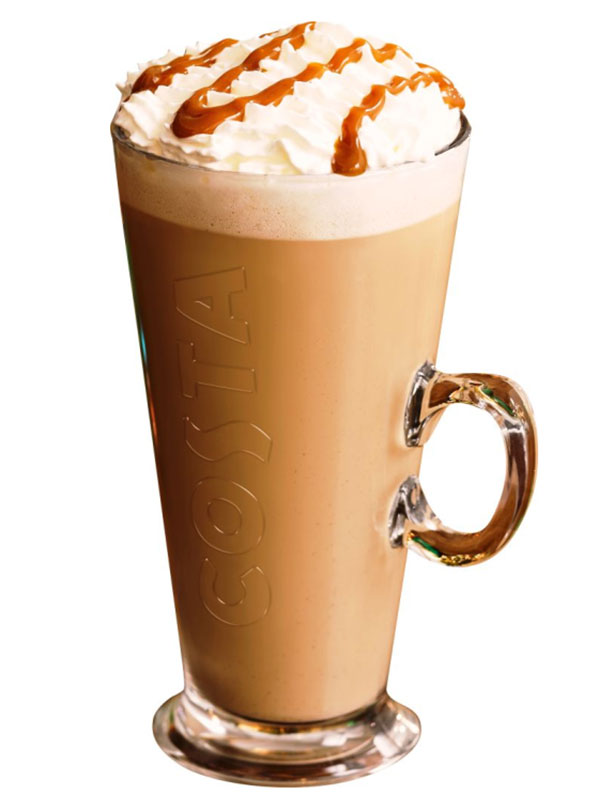 610 calories
28.3g fat
75.2g carbohydrate
73.3g sugar
The worst offender to our waistline and health is Costa's Sticky toffee latte, which albeit delicious, has an astounding 73.3g of sugar - that's more than double the amount of sugar you should be having in ONE DAY just in one drink!
Nero's Winter berry latte Grande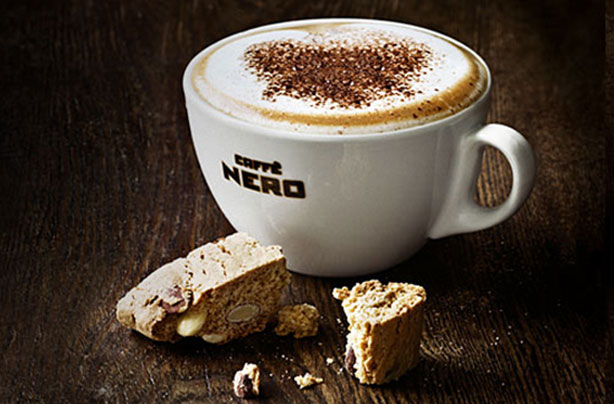 557 calories
25.4g fat
71.8g carbohydrates
71.8 g sugar
Nero's festive winter berry latte is not a lot better, with 71.8 g of sugar in the Grande size. Sugar high anyone?
Starbucks' Eggnog latte Venti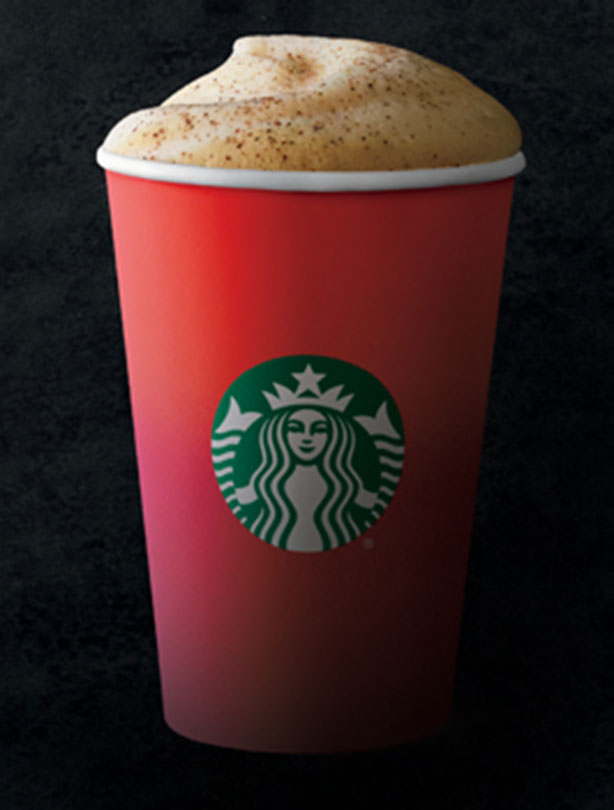 547 calories
25.9g fat
60.5g carbohydrates
58.2 sugar
Starbuck's popular eggnog latte contains a whopping 58.2 g of sugar. Yikes!
Starbucks' Gingerbread latte ginger whip Venti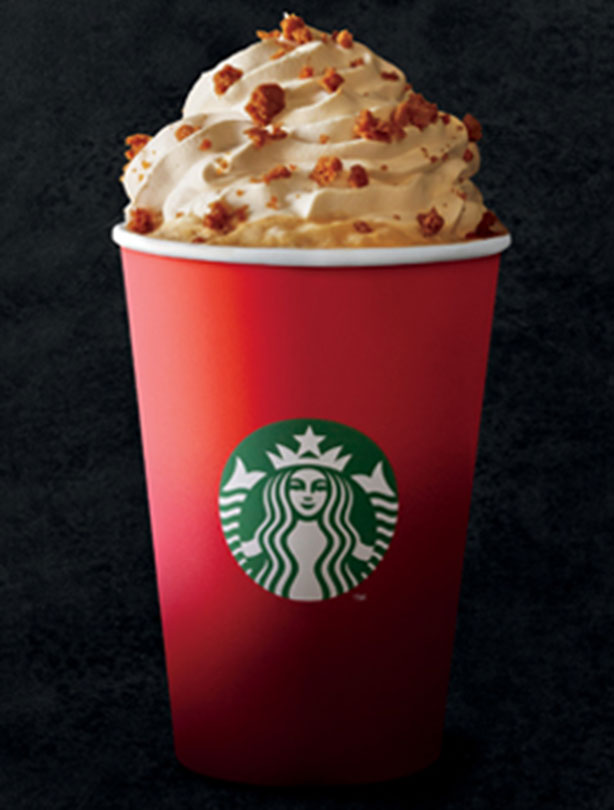 403 calories
15.2g fat
51.4g carbohydrates
47.9g sugar
Finally under the 50g sugar content mark, we have Starbucks' Gingerbread latte with 47.9g.
Costa's Gingerbread and cream latte Massimo size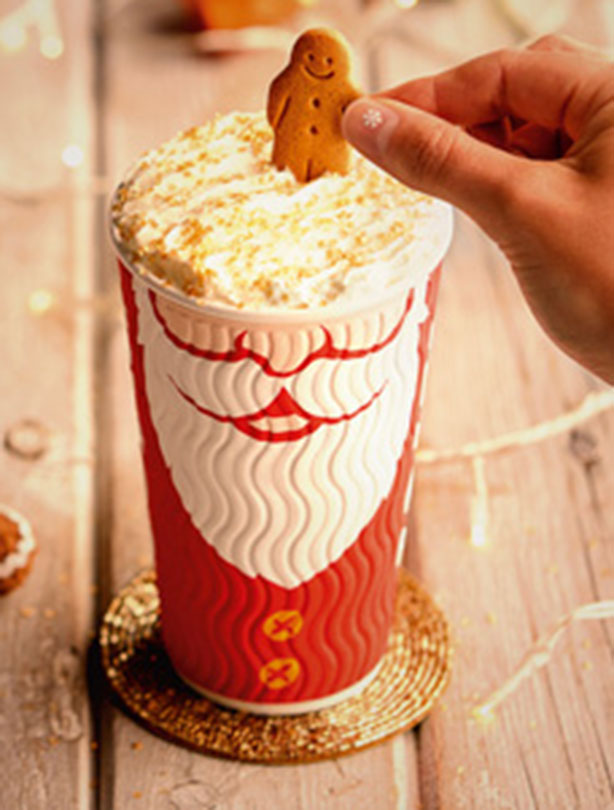 317 calories
13.8g fat
35.4g carbohydrate
34.9g sugar
Even though it's by far Costa's best Christmas option, their Gingerbread and cream latte is still over the NHS maximum daily amount of sugar per day.
McDonald's Toffee Latte Large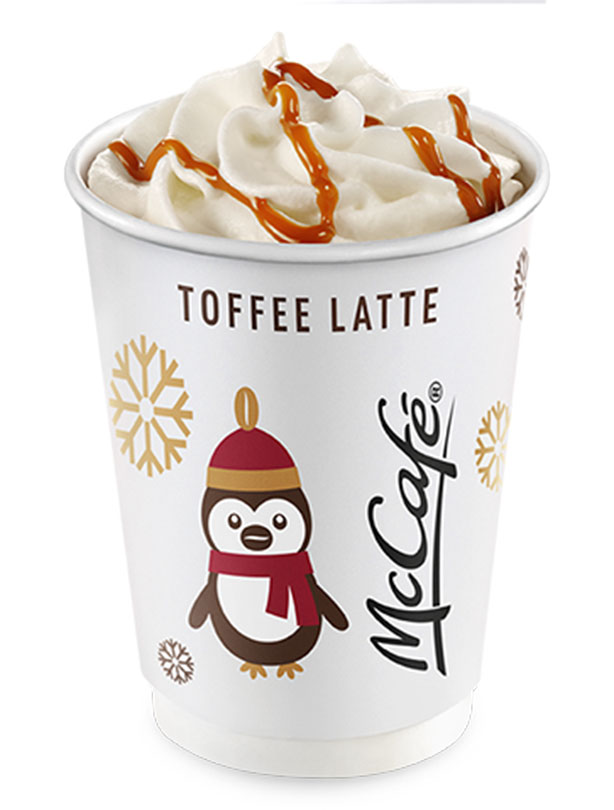 241 calories
7.0 fat
34 carbs
32 sugar
McDonald's Toffee Latte Large comes as one of the not so bad options, but its sugar content still equates to eight teaspoons of sugar!
Pret A Manger Orange Spiced Latte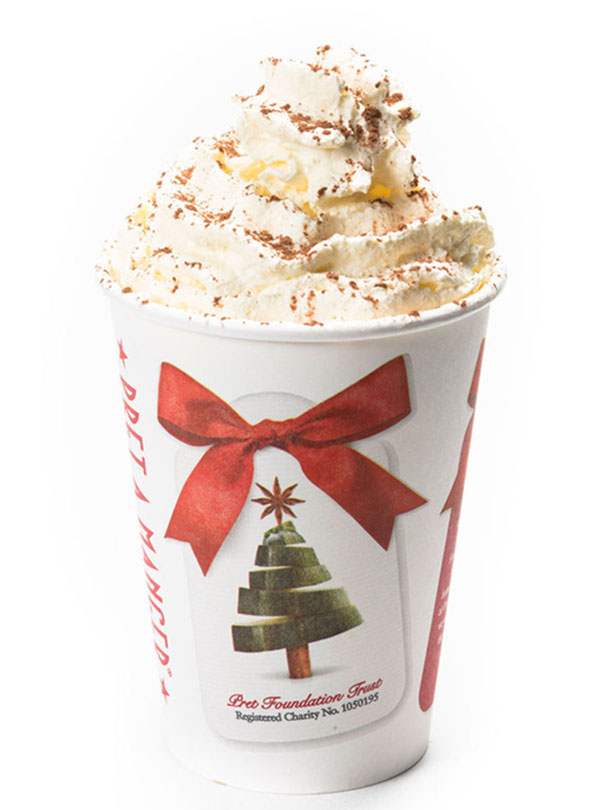 186 calories
8.2g fat
21.4 carbs
21.4g sugar
Continued below...
The only one to be under the maximum amount of sugar recommended per day. This means you can have Pret's Orange Spiced Latte and still 9g of sugar, which really isn't a lot when you think a small banana contains 12g of sugar...
What do you think, will you be swapping your Christmas coffee for a healthier version? Let is know below!