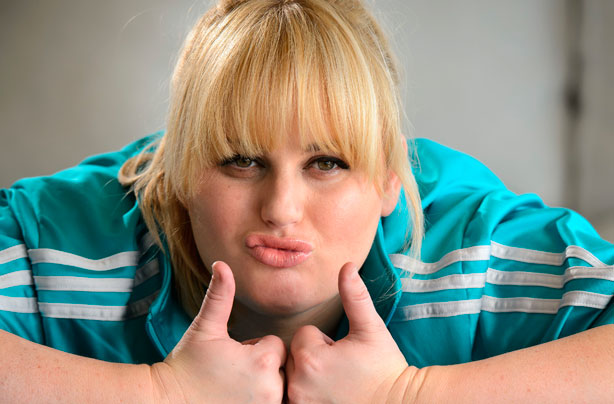 Let's not lie to each other: feeling bad about yourself sucks.
There's nothing worse than not feeling comfortable in your own skin, but the truth is, no one feels 100% great about themselves 100% of the time - and that includes celebrities.
We might look at them as pillars of perfection, with their amazing figures and glossy hair, but celebs of all shapes and sizes are still human - they gain weight, lose weight, get pregnant and get old, just like the rest of us.
What many of them DO have, however, is proper, unashamed body confidence - and most of us could learn a thing or two from that.
We've scoured the interview archives to find the most brilliant body confidence quotes from celebs of all kinds of body types and backgrounds, and here are 28 of the best, to remind you just how amazing
every
body is.
You'll love yours by the end, we promise.
1. Adele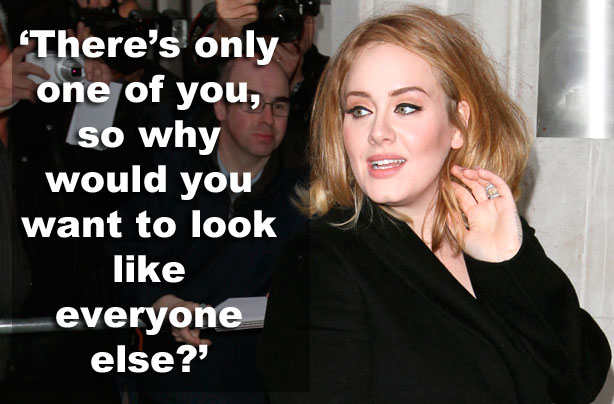 Adele, in a Sirius XM Town Hall interview:
'There's only one of you, so why would you want to look like everyone else? Why would you want to have the same hair style as everyone else and have the same opinions as everyone else?'
2. Drew Barrymore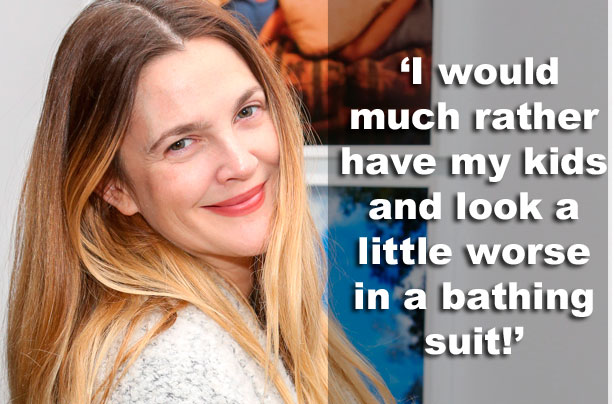 Drew Barrymore, to People:
'I have cellulite. But I would much rather have my kids and look a little worse in a bathing suit!'
3. Kate Winslet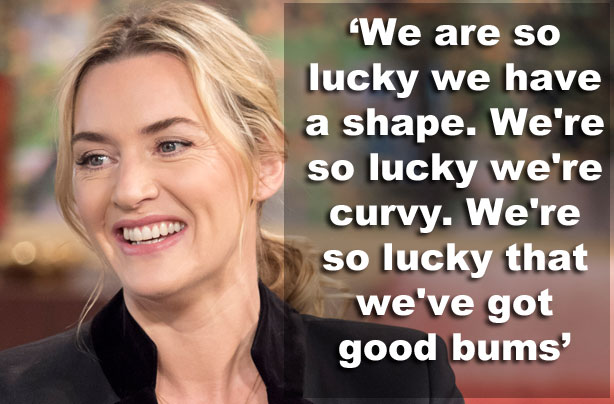 Kate Winslet, whilst filming Running Wild with Bear Grylls:
'I stand in front of the mirror and say to [her daughter] Mia, 'We are so lucky we have a shape. We're so lucky we're curvy. We're so lucky that we've got good bums.'
4. Meryl Streep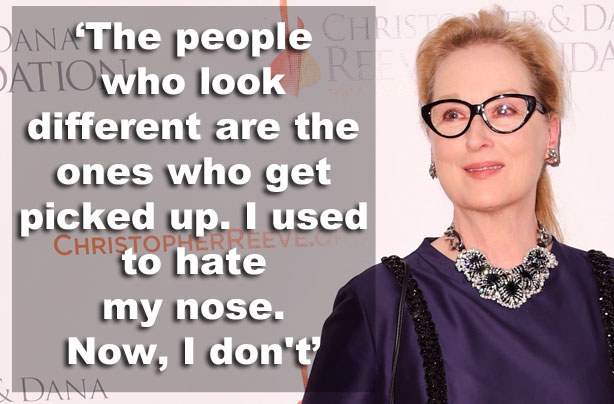 Meryl Streep, to Elle:
'Everyone tries to look a cookie-cutter kind of way, and actually the people who look different are the ones who get picked up. I used to hate my nose. Now, I don't.'
5. Fearne Cotton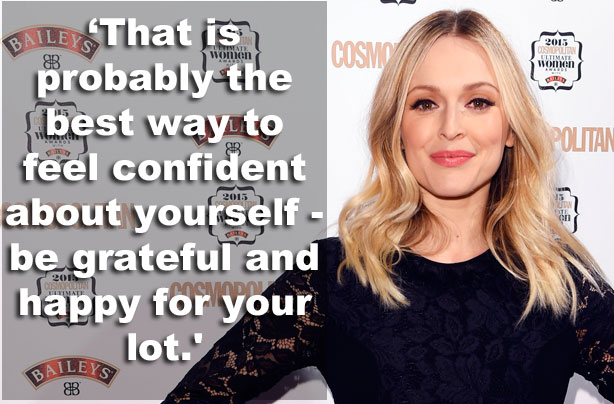 Fearne Cotton, to Sugarscape:
'I think as long as you remember to be thankful then you ca't really be that angry about anything. There's always something you're allowed to be thankful for, and if you remember that then the bad things become a lot smaller. I would say that that is probably the best way to feel confident about yourself - be grateful and happy for your lot.'
6. Kim Kardashian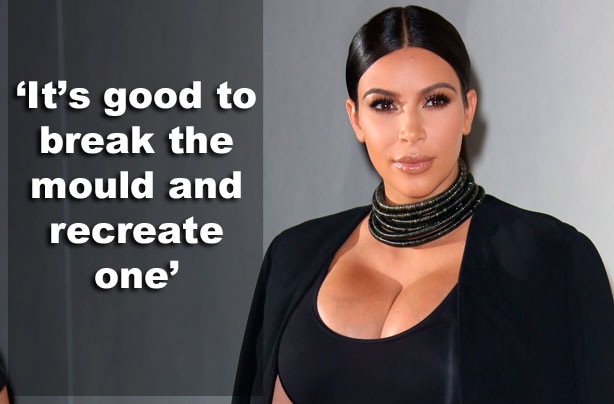 Kim Kardashian, to Elle:
'I grew up when the body to have was the tall, slim, supermodel one, like Cindy Crawford's. No one looked like me. It's good to break the mould and recreate one.'
7. Kristen Bell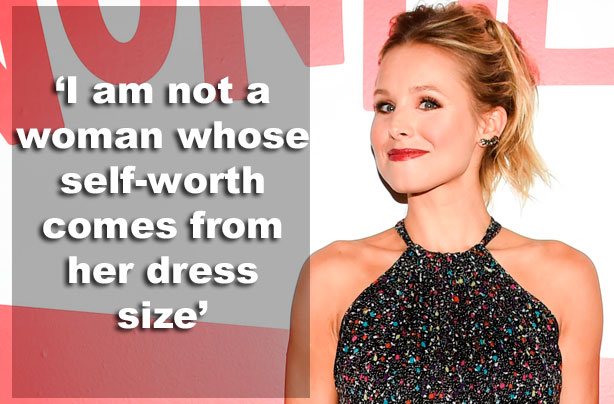 Kristen Bell, to Redbook:
'I refuse to worry about something that I could not change... I am not a woman whose self-worth comes from her dress size.'
8. Jennifer Lawrence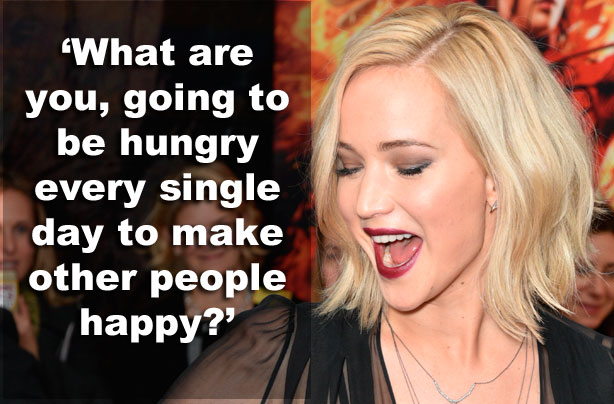 Jennifer Lawrence, in a Yahoo Q&A:
'You look like you look, and be comfortable. What are you, going to be hungry every single day to make other people happy? That's just dumb... I love to eat.'
9. Kelly Clarkson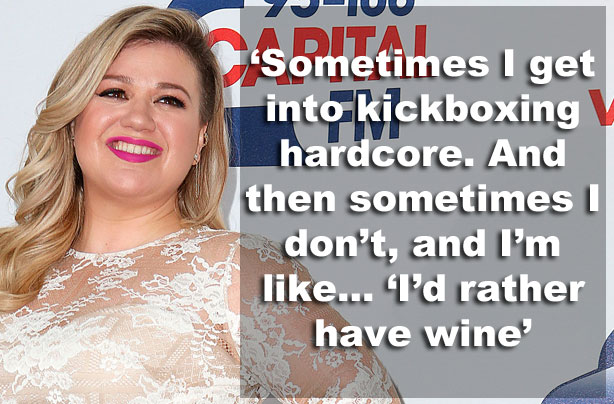 Kelly Clarkson, on the Ellen DeGeneres show:
'We are who we are. Whatever size. And it doesn't mean that we're gonna be that forever... Sometimes we're more fit. Like especially me, I'm such a creative person that I yo-yo. Sometimes I'm more fit and I get into kickboxing hardcore. And then sometimes I don't, and I'm like... "I'd rather have wine".'
10. Christina Hendricks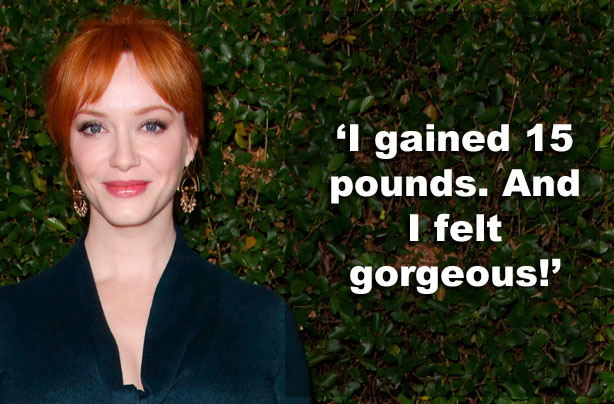 Christina Hendricks, to Health magazine:
'Back when I was modeling, the first time I went to Italy, I was having cappuccinos every day, and I gained 15 pounds. And I felt gorgeous! I would take my clothes off in front of the mirror and be like "Oh, I look like a woman." And I felt beautiful, and I never tried to lose it, because I loved it.'
11. Keira Knightley
Keira Knightley, to Vanity Fair:
'I think I always disappoint people, because they always expect someone very pretty. Very done. There's so much pressure to be thin, blonde and busty. I'm skinny, but even I couldn't fit into some of the clothes there (in L.A.)! In a funny kind of way, I think you create it yourself. I think it's much better to go with the flow and embrace your body, whatever shape it is, and just be happy.'
12. Jennifer Aniston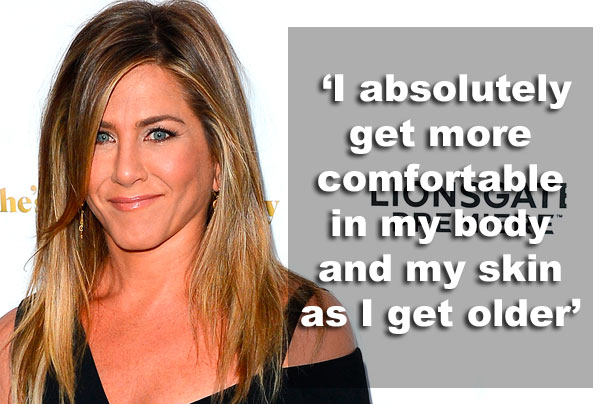 Jennifer Aniston, to Popsugar:
'I think I absolutely get more comfortable in my body and my skin as I get older. More than when I was in my 20s — I was so awkward and uncomfortable.'
13. Melissa McCarthy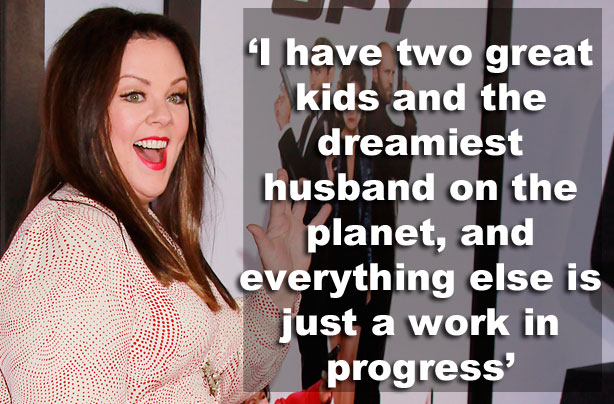 Melissa McCarthy, to More:
' I've been every size in the world. Parts of my 20s, I was in great shape, but I didn't appreciate it. If I was a 6 or an 8, I thought, "Why aren't I a 2 or a 4?" Now I feel like I have two great kids and the dreamiest husband on the planet, and everything else is just a work in progress.'
14. Jessica Simpson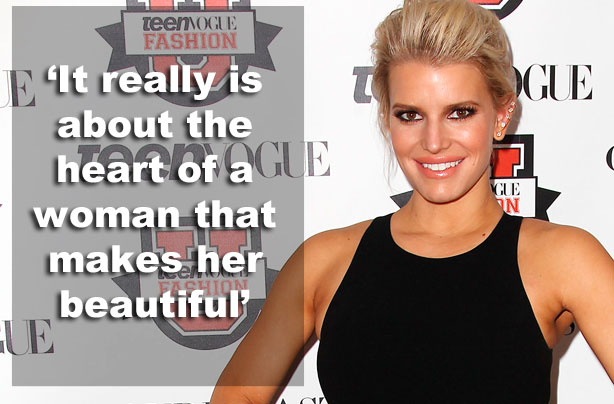 Jessica Simpson, during an episode of The Price of Beauty:
'I'm interested in learning more about myself and what I value in myself and letting that be the beautiful part of me, rather than putting on the makeup or wearing the right designer. It really is about the heart of a woman that makes her beautiful.'
15. Tyra Banks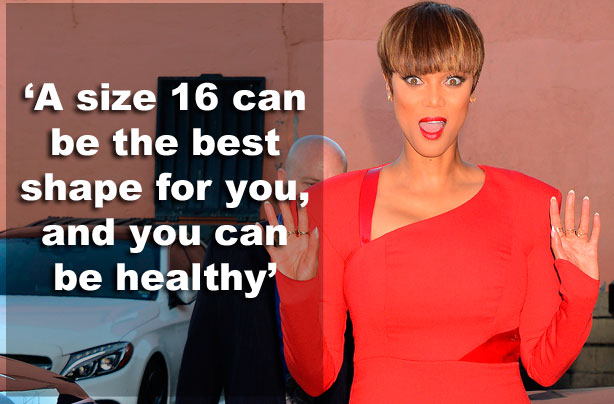 Tyra Banks, to People:
'A size 16 can be the best shape for you, and you can be healthy. I have a friend who's a plus-size model, and she's a size 18. She is fierce, she can bench-press, she can run longer than me. She has not an ounce of cellulite. My butt looks like an orange peel.'
16. Kelly Osbourne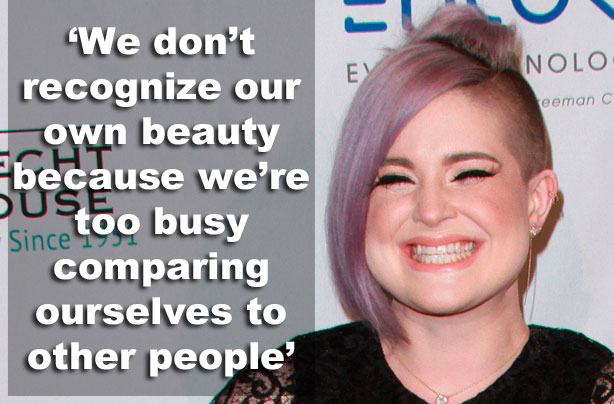 Kelly Osbourne, to Glamour:
'It's important not to wish you looked like someone else and focus on the things you like about yourself. We don't recognize our own beauty because we're too busy comparing ourselves to other people. No, we are not all Gisele Bündchen; we're not all Beyoncé.'
17. Olivia Colman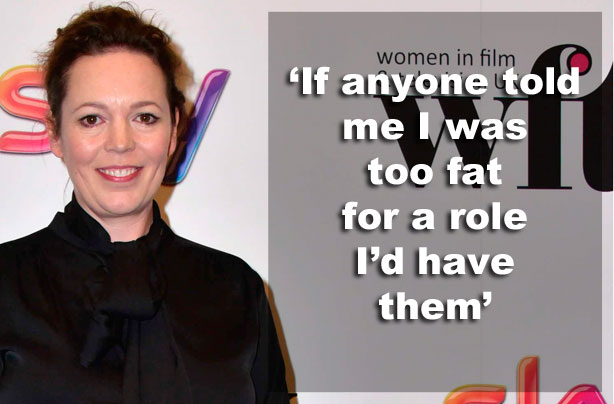 Olivia Colman, to the Times:
'God help anyone who tries to suggest... If anyone told me I was too fat for a role I'd have them. I am a perfectly normal woman. If what we do is storytelling and represent people that we see all day and every day, well, we do not see supermodels all day and every day.'
18. Rebel Wilson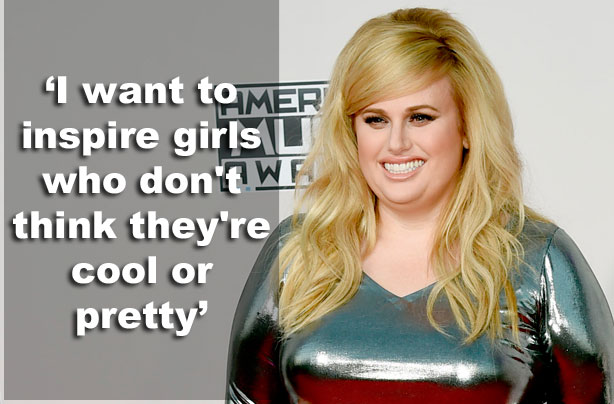 Rebel Wilson, to In Touch:
'I want to inspire girls who don't think they're cool or pretty. To do that, I need to put out a realistic version of what it's like to be a girl who looks like me. Sometimes that means getting broken up with by a dude who says, "You're too fat." That way, when my character wins, it's gratifying.'
19. Emma Watson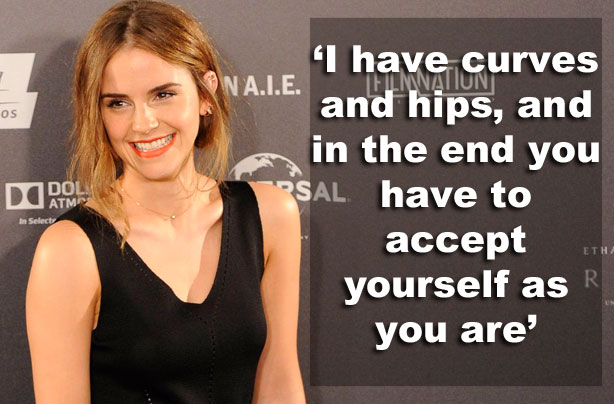 Emma Watson, to Marie Claire:
'I've accepted my body shape more as I've got older. I went through a stage of wanting to have that straight-up-and-down model look, but I have curves and hips, and in the end you have to accept yourself as you are.'
20. Helena Bonham Carter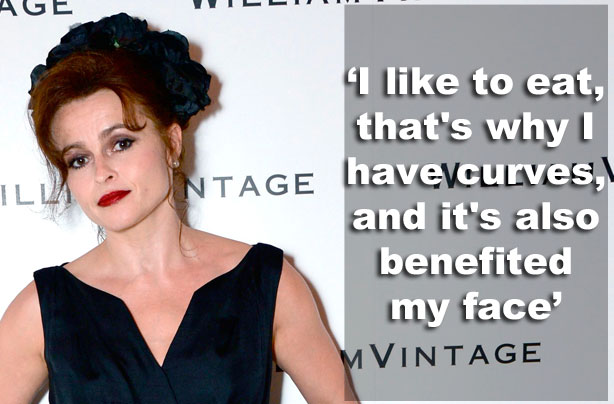 Helena Bonham Carter, to German magazine Brigitte:
'I like to eat, that's why I have curves, and it's also benefited my face. I think it's sad that our lives are dictated by someone saying: You can't eat this or that if you want your body to conform to someone's ideal. It means food becomes associated with guilt, but really it should be a source of pleasure.'
21. Isla Fisher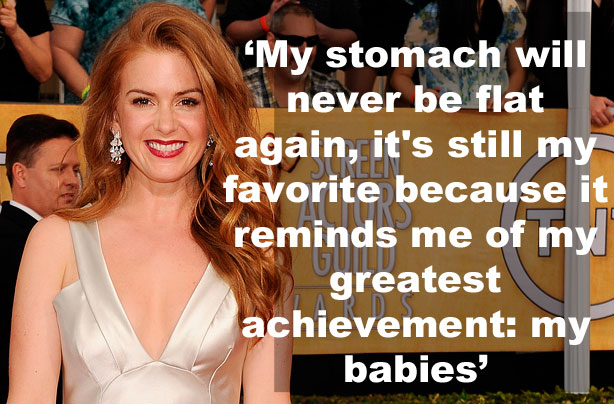 Isla Fisher, to Fitness magazine:
'Even though my stomach will never be flat again, it's still my favorite because it reminds me of my greatest achievement: my babies.'
22. Charlotte Church
Charlotte Church to the Guardian:
'If someone has got a problem with a size 12 girl walking in with no make-up on and a big spot on her chin, that's their issue. I'm not very insecure.'
23. Jennifer Lopez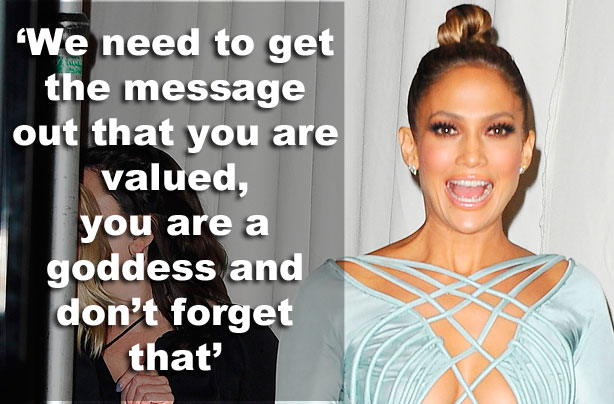 Jennifer Lopez, to Cosmopolitan:
'We need to get the message out that you are valued, you are a goddess and don't forget that. It's about stopping those thoughts of negativity and insecurity. I think changing that and really recognizing yourself triggers control of how you feel, so you're able to go, "No, I'm awesome man, I'm amazing, there's nobody like me." I think that's the big secret to body confidence.'
24. Dawn French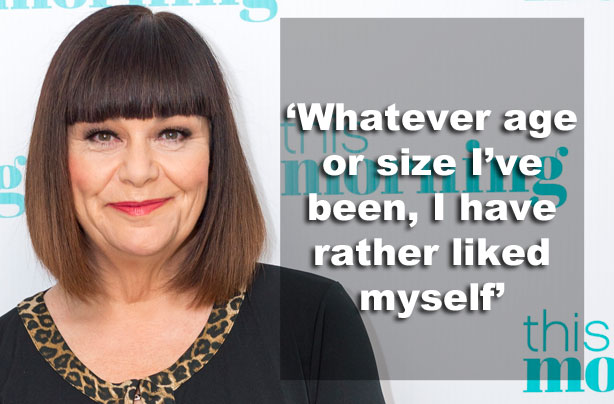 Dawn French, to the Mirror:
'For me, whatever age or size I've been, I have rather liked myself. The shell is not the thing at all.'
25. Mindy Kaling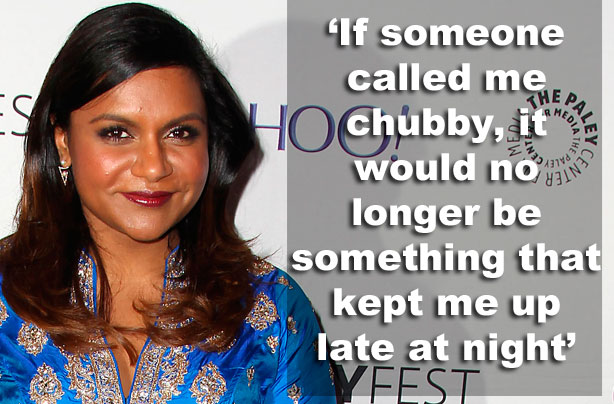 Mindy Kaling in her book, Is Everyone Hanging Out Without Me?:
'If someone called me chubby, it would no longer be something that kept me up late at night. Being called fat is not like being called stupid or unfunny, which is the worst thing you could ever say to me.'
26. Christina Aguliera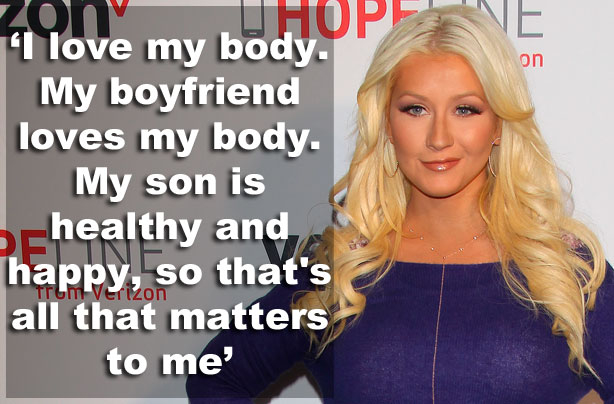 Christina Aguliera, to Marie Claire:
'I've been criticized for being on both sides of the scale. It's noise I block out automatically. I love my body. My boyfriend loves my body. My son is healthy and happy, so that's all that matters to me.'
27. Thandie Newton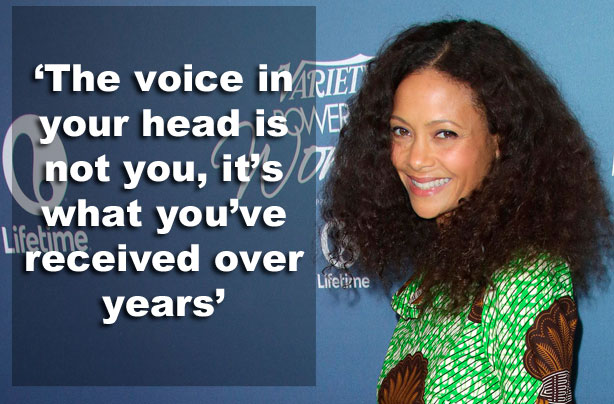 Thandie Newton, during the Woman of the World summit:
'The voice in your head is not you, it's what you've received over years: it's your school, it's how you were spoken to as a child, and it's a bad ex-boyfriend. And we mustn't hand that nastiness to ourselves to use as a tool to inflict pain upon ourselves.'
Continued below...
28. Claire Danes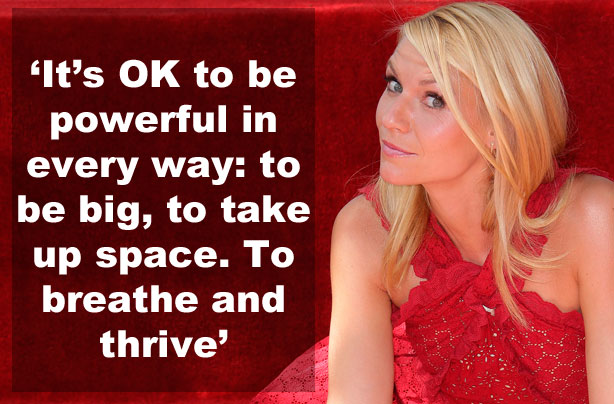 Claire Danes, to Allure:
'It's OK to work at being attractive, whatever that means to you. And it's also OK to not expect to be defined by that. It's OK to be powerful in every way: to be big, to take up space. To breathe and thrive.'