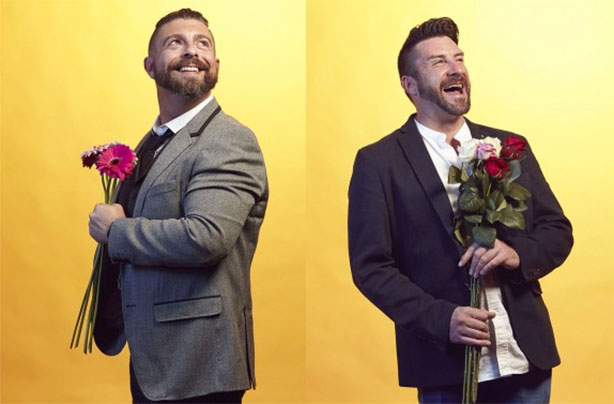 Happy news for the First Dates' loverbirds Adam and Dan, who have announced they're engaged.
Their mutual love for Kylie Minogue brought them together on their first date, and who knew it would go this well?
Adam and Dan met on the latest series of the Channel 4 programme, aired in November, and recently returned for a Christmas special.
The festive season apparently inspired Dan to pop the question to boyfriend Adam, according to
Daily Mail reports
.
The pair reportedly got engaged on Christmas Day, which also happens to be Adam's birthday.
On the couple's first date, Dan opened up to Adam about how he overcame a stroke at just 21 years old.
YES - after seven weeks of dating, Adam and Dan are in a relationship! They are very much in love. 💙💛💚#FirstDates pic.twitter.com/huM2UxKwnS

— First Dates (@FirstDates) November 5, 2015
He also confessed that his time at the hospital helped him realise he was homosexual: 'I went in hospital straight and came out gay. I shocked everyone when I came out. I was obsessed with Julia Roberts when I was at school and had posters of her all over my walls. Even now I fancy her but it's like 'foo foo' yuk!'
Adam, on the other hand, was nervous before Dan arrived and told the waitress how he didn't 'have a filter' and what he thinks 'comes straight out'.
But he had nothing to worry about - they were in a relationship after seven weeks of dating.
Dan and Adam are the second couple to share happy engagement news after meeting on the show.
On the latest episode of the show, we got to see Victoria saying yes to Scott's Haribo gummy ring - how cute!
Speaking of the proposal, Scott explained is unsual choice of ring saying: 'I hadn't had a chance to get a proper ring but I really wanted to do it in the place we met'.
'Hopefully in years to come we'll have our first date to watch but we'll also have the proposal and we can show it to our kids in the future.'
Continued below...
And they've set a date already - the first 'First Dates' wedding is to happen next Autumn. That is if Dan and Adam don't tie the knot first...