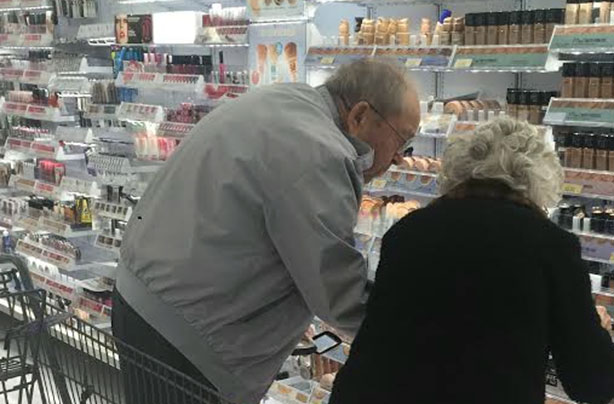 A photo of an elderly couple shopping at the supermarket has gone viral with its heart-warming message.
Warning, you should definitely have some tissues to hand for this one.
At first the photograph seems to show a typical everyday scene - two pensioners out for the day, picking up some items in the aisle of the supermarket.
But the caption tells the full story of the loved-up couple, who are not aware that the picture is being taken by an admiring onlooker.
Hannah Nicole Kent from New York posted the picture to the Love What Matters Facebook page.
The caption reads; 'This husband was helping his wife choose a make-up that matched her skin tone. She was so concerned about finding the right one and he was so unbelievably helpful.'
In a scene that most husbands can empathise with, his wife was taking her time choosing what make-up to buy but instead of becoming frustrated at her indecision, he did the sweetest thing.
The post continues; 'She was having a "girl" moment, in a panic struggling to find the right one. He calmed her down, helped her find her color and kissed her on the forehead.'
With over 320,000 shares and 97,000 comments in less than 24 hours, the post has clearly resonated with people around the world.
Hannah concludes; 'It was such a simple way to show how big his love was for her. A perfect reminder that our bodies grow old but our love doesn't have to.'
Fans of the picture have shared their own stories of love, including Robin Pietrucha who said; 'Most men do not want to go shopping at all. And to go for a girly thing and be supportive and helpful OMG! I do not know this man but I love him. His wife is one lucky lady.'
Continued below...
This might be the sweetest story we've read in a while! We hope you brought those tissues...