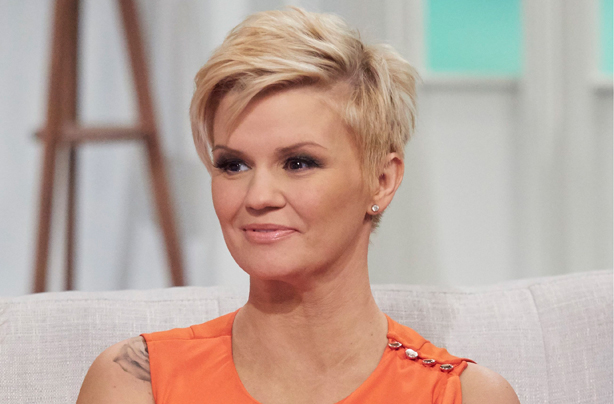 Mum-of-five Kerry Katona has been thanking the benefits of yoga for her new slimline figure and positive mindset.
The Atomic Kitten singer has been unstoppable recently, after treating herself to a fabulous
new haircut
and looking great after taking on a healthy lifestyle.
The 36 year old looks particularly slim in one of her most recent Instagram posts, in which she says she feels 'on top of the world' and credits yoga and her workout for looking and feeling so great.
Posing in a slim-fitting black tracksuit, the mum completed her sportswear look with wedge-heeled trainers and a pom-pom beanie. In her caption she wrote, 'Happy Monday everyone!!! Feeling on top of the world... done my yoga, work out, shower now ready to take on the world!!'
'Bring it on!! Stay blessed🙏also a big shout out to @jyy.london for the beautiful tracksuit! Perfect for today's weather xxx'
Fans were delighted by Kerry's positive attitude, with many commenting on how good she looks.
One follower wrote, 'Looking good gurrrrrlllll x' while another noted how productive the mum of five had been before 8am, 'All that before 8am, with kids?!! How?!? Tell me how'.
One fan called Kerry an 'inspiration', sharing her own story of how hard it can be to get fit again after becoming a mum.
'You are looking fab @kerrykatona7 you are my inspiration at the moment as trying to get back in shape after having my 2 twin boys, keep posting as it helps me xx'
Earlier this month Kerry shocked fans after trying on a pair of her daughter Lilly's jeans which were sized age 13.
Kerry shared the snap to Instagram, writing, 'pair of jeans which was Lillys age 13!! and they fit Wtf!!!' she exclaimed in the image.
Fans were quick to applaud Kerry on her amazing results, with one writing: 'Your looking amazing Kerry if I were you I would be wearing them inside out so the world could see the tag 😂xx' and another adding: 'Oh my god how are you managing to lose so much weight . I can't get motivated at all. What's your secret ?? X'
In April 2016, Kerry opened up to OK! magazine about shedding an impressive two stone in just four months for the launch of her new slimming plan, KFIT Kerry Nutrition.
At the time, the Atomic Kitten star revealed to the title that she had dropped three dress sizes, saying: 'My size 10 jeans are too big now so I'm about a size 8 and I was a size 14 before.'
In October of the same year, Kerry tweeted to tell her followers that she'd undergone a mini tummy tuck and liposuction, writing: 'Well I've been recovering from having a s**t load of lipo!! #dontjudge!! 😂😂 5 kids and all!! And a mini tummy tuck! Just a kick up the arse x'
She added of her decision to have surgery: 'Don't wanna be a fat cat amongst the kittens', but added that she'd still be working hard on her natural weight loss, concluding: 'Can't wait to get back in gym!!'
The majority of Kerry's slimming seems to be down to hard work, exercise and eating right, so here are a few of her diet and exercise secrets that you can try at home...
It's about a mindset, not a figure
Kerry's figure has fluctuated over the years, but in a comment that will resonate with a lot of women, she admitted that her healthy new approach to life wasn't so much about the end result, but more about changing her mindset towards her body in the long term, and learning to love herself.
Speaking to OK! she said: 'This isn't about my body, this is all to do with my mindset. I could be a size 14 and feel great. If I feel good in my head, I feel good on the outside. I'm still curvy.'
In January 2016, Kerry motivated herself by tweeting her promise to slim down to her 470K Twitter following, while encouraging them to work alongside her, so she had quite the incentive to keep going!
Try a new exercise approach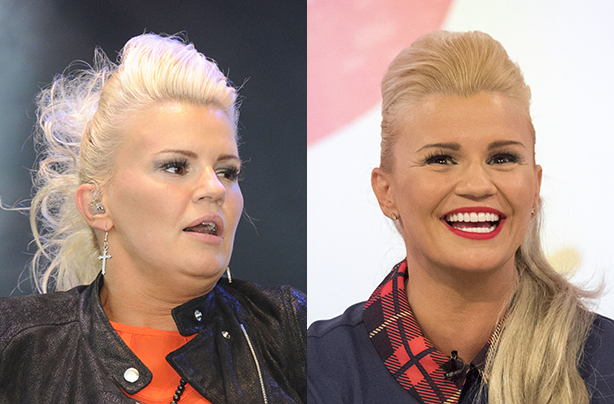 Kerry has previously revealed that her weight loss journey started with using CrossFit gym workouts.
It's amazing how crossfit changes your mood! Feeling great after doing the 16.2 @ThePaleoGym thank you so much. & well done everyone xxx

— Kerry Katona (@KerryKatona7) March 7, 2016
CrossFit gym members are encouraged to do a range of physical activity, ranging from running and swimming to squats, deadlifts and gymnastics, as well as eating plenty of lean meats, vegetables, nuts and seeds – and cutting out all sugar. All of the edible components are to be measured so that they 'support exercise but not body fat.'
Kerry has been known to try various other diets in the past, including a no sugar diet and a healthy eating plan by The Sun that encourages dieters to stick to meals under 400 calories, but her current diet seems to be the one that has worked for her long-term.
Limit alcohol
Kerry's said that she does try to limit her booze intake, explaining: 'I don't drink during the week. If I'm going on a night out I'll drink, but I don't go out very often.'
In a previous interview with Closer Kerry said: 'I blame alcohol - all the sugar gives me a booze belly,' before admitting at the time that she felt 'a lot sexier walking round the bedroom' in her underwear following her booze-ban.
Up your protein intake
Kerry's KFIT Nutrition range includes plenty of protein products, and with her name on the label, we'd imagine Kerry herself has been using them to slim down. From protein bars and shakes to fat metabolisers and green tea detoxes, her weight loss aids target a range of different factors.
Continued below...
It's thought that protein is good for helping you get your desired figure because it supports muscle growth. Your body uses protein to build and repair tissues, so it works by helping your body recover after a gym session or periods of intense exercise.