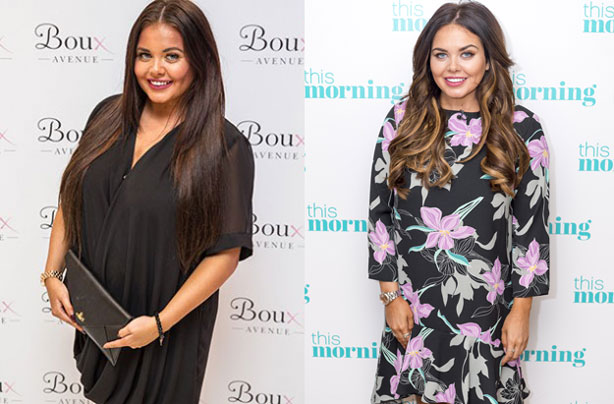 Scarlett Moffatt has been getting praise from fans after posting pictures showing off her visibly slimmer figure.
The ITV presenter received compliments from her followers, who commented under one of her recent snaps to ask her how she lost 'so much weight' since her stint on I'm a Celebrity: Extra Camp.
One said: 'How have u lost so much weight since doing the extra jungle camp? What's your secret ?? U look great xxx'
A second wrote: 'How have you lost so much weight, been trying for 6 months and still no results', while a third added: 'Losing weight again. Looking good x'.
The former Gogglebox star seems to be going back to an active lifestyle, after admitting she stopped exercising because 'life took over'.
'I know that sounds like an excuse but I was so busy, eating on the road! Was surrounded by not encouraging people - but that's all changed', she said, responding to a fan who asked why she stopped working out.
Posting a picture of her ready to hit the gym, Scarlett said: 'First day back at the gym today!! I know it'll take a good couple of months to get my memory muscle back into the swing of things but I can't wait to get fit for me, your health is your wealth 💪🏽 #gym #confidence #loveyourself #fitness'.
It's not the first time Scarlett has posted about her fitness goals, as she's been very public about her weight loss journey in the past, which saw her slim from a size 16 to a size 10 in 2016..
The TV star, who became well known for appearing alongside her mum and dad on Gogglebox, credited her weight loss to a number of factors, including cutting down on junk food, hitting the gym with now ex-boyfriend Luke Crodden, and of course,
her workout DVD, Scarlett's Super Slim Me Plan
.
Speaking to Heat magazine in January last year, Scarlett confirmed her total weight loss had been three stone and 4lbs at the time, the equivalent to what her three-year-old cousin weighed back then.
'I've lost 3st 4lb, and that's roughly what my three-year-old cousin Noah weighs. It's like I've been piggy backing Noah for years and I've just dropped him off at school.'
But as well as having more energy, it's shrinking her J cup bra size that Scarlett's most happy about: 'Now I'm a DD. I was throwing my old bras out and my little sister – she's only 10 – could fit her whole head in one cup! It's such a nice feeling to have so much more energy – I'm happier now.'
Writing on her Instagram account, Scarlett adds that she can't quite believe her own success - sharing a side-by-side before and after picture, she wrote: 'I can't quite believe it myself to be honest, sometimes I forget just how much weight I've lost. It's amazing how you can lose something (over 3 stone) but gain so much (confidence, health, fitness) 💪🏽 if I can do it you can.'
And if the lady herself says so, it must be true - we really can transform our bodies in the same way! Here, we look at her motivation and her methods to figure out just how Scarlett's stayed so dedicated to her weight loss – and see if we can replicate her success ourselves...
Find your motivation
The TV star began her transformation after a trip to the doctors revealed her
BMI
was in 'the danger zone' and she was pre-diabetic.
'I have been tested for diabetes because my BMI puts me in the danger zone,' she told Heat magazine in April 2016. 'It was a real scare and I know I need to sort myself out and lose weight.'
'I knew I was overweight but when I went to the doctor for a check up, she said: "You're not overweight, you're obese." I was really shocked; I almost cried.'
'There's a point where you think, "I'm okay the size I am", but when it starts affecting your health, you need to pull your finger out,' she added to the Belfast Telegraph.
'When I was super-fit, I used to do loads of workouts in the house, because you can do it whenever you want. I'm definitely going to have to find something.'
Face your fears
When she started filming for her exercise DVD, Scarlett had to confront the scales – something she had been dreading for some time.
'Last time I weighed myself I was 8st 7lb but I think that dream is long gone,' she said beforehand. 'I feel sick... I want to vomit.'
https://www.instagram.com/p/BKxt02PABGD/
After the scales revealed she actually weighed 11st 4lbs, an emotional Scarlett broke down, saying: 'I can't believe it. It's not healthy, I'm only 25 and like 5ft. My weight will only go down from now.'
Although in the moment, the news was difficult to cope with, the shock to the system clearly worked in Scarlett's favour, as she's since stuck to her guns and worked hard to achieve her goals.
Get moving
Exercise has been key to Scarlett's new healthy lifestyle. A former ballroom dancer, she's had to reignite her passion for working out.
'I've just started exercising quite a bit actually. I'd say I do
HIIT
three times a week,' she explained to Now magazine near the start of her weight loss journey.
Allow yourself treats
Speaking in August 2016, Scarlett revealed that her regime doesn't mean cutting out her favourite foods completely.
'My head doesn't look like the moon anymore! And for the first time in years I'm wearing fitted clothes,' she exclaimed to Closer. 'I'm a proper foodie and I could never do a fad diet. I've just cut down to one Greggs pie a week, and instead of a king-size Snickers bar, I'll have a normal size one.'
The star previously revealed that she was battling a takeaway addiction, often eating kebabs more than once every week.
In an interview with Now magazine, Scarlett added that she couldn't resist doner meat, admitting: 'truthfully, I have it maybe once or twice a week', and that she can eat 'a week's worth of calories' in one sitting.
Celebrate your successes
Scarlett's been using social media to document the changes in her body, sharing her happiness with fans when she hits major milestones.
'Crying like a baby today, Cant believe I've lost 2 stone. Feel so proud. Honestly if a professional couch potato can do it, anybody can', she wrote alongside an old picture of herself in a grey dress, and a new snap of her slimmer self in workout gear.
She's also revealed the difference her weight loss has made to her everyday quality of life: 'Doesn't sound like a big deal but it's the little things that make me now smile everyday. Running up the stairs without getting out of breath, I now can enjoy going shopping, I wake up and my back doesn't ache. Lovelies if I can do it you definitely can,' she encouraged in a recent post.
Keep it up
After succeeding in her weight loss journey, Scarlett launched a fitness DVD, Scarlett's Super Slim Me Plan, which came out on Boxing Day 2016.
Fitness DVDs are a great way to keep up with her exercise plan in the comfort of her own home, and Scarlett said she used hers to maintain the balance in her life.
https://www.instagram.com/p/BL6i9WXgeuB/
'When you can eat 2 types of birthday cake and not feel guilty because you know you can just smash the DVD 💪🏽,' she wrote as she turned 26.
Continued below...
'Lovelies it's out for pre order on amazon now, the fact that I'm a bloody professional couch potato & did it, I am 10000% positive you lovely lot can ❤️💪🏽 #motivation'