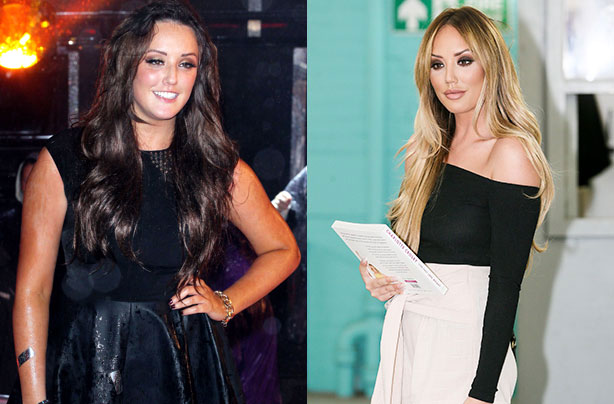 Reality star Charlotte Crosby became famous for her love of partying, drinking and wild nights in the Geordie Shore house, but a complete lifestyle overhaul has seen her shift three stone in just seven months.
After shooting to fame alongside her MTV co-stars and making an unforgettable appearance in Celebrity Big Brother, Charlotte is now forging a new career path in the world of fitness.
The 25 year old released her her first exercise DVD -
3 Minute Belly Blitz
- and it shot straight to the top of the Amazon charts, attracting lots of new fans and fitspo-followers inspired by Charlotte's dramatic change.
Now she's giving out some serious
celebrity diet
advice, and wants her followers to know that they can lose weight too - but without having to give up all your guilty indulgences.
https://www.instagram.com/p/03HURhOGZO/?taken-by=charlottegeordieshore&hl=en
Remember why you started trying to lose weight
Charlotte is well known for her honesty, and her weight loss journey has been no different after revealing to This Morning hosts Phillip Schofield and Holly Willoughby the heartbreaking moment she realised her weight was tearing her family apart.
Charlotte had a huge argument with her mum, which started when she was binge eating in secret; 'I had three meals from McDonalds and I hid in the bathroom to eat them, but she [mum] could hear the rustling of all the cheeseburger papers.
'She was so angry, we had this massive row, and I cried for weeks, we went to the airport and weren't even speaking and didn't sit next to each other on the plane.
'It was really coming between me and my family cause she could see I was unhealthy and she didn't want that for her daughter.'
https://www.instagram.com/p/8Q8lsxOGQ5/?taken-by=charlottegeordieshore&hl=en
Allow yourself to have a cheat day
This year Charlotte is launching a recipe book, Live Fast Lose Weight, and readers should expect to see a mixture of healthy foods and... not-so-healthy.
While Charlotte is fully embracing her new lifestyle, in order to stay on track she knows she has to have a cheat day every now and then, and encourages her followers to do the same.
Charlotte says; 'I have eggs for breakfast, then a salad for lunch and something like chicken with tomatoes and mozzarella for dinner.
'But I'm normal so I have cheat days too. On a cheat day, I will have a fry up, a Big Mac meal with Fanta, a double cheeseburger, six chicken nuggets and two sour cream dips. I also snack on crisps galore and cupcakes.'
https://www.instagram.com/p/5hnxJMOGQx/?taken-by=charlottegeordieshore&hl=en
Keep old pictures of yourself to remind you how far you've come
Charlotte told The Sun that her biggest regret during her wild partying days in the Geordie Shore house was being overweight; 'My biggest regret is being fat. I look back at pictures and think "I was young and on TV but I was so fat".
'I didn't take any pride in my appearance and I feel sad that I didn't care about myself at all. I'd wear no make-up, awful clothes, eat McDonalds every day, drink tons of alcohol and let my body down.'
https://www.instagram.com/p/zfne3duGcd/?taken-by=charlottegeordieshore&hl=en
Don't feel intimidated by the gym
Charlotte reminds her followers that before her lifestyle overhaul, she never even went near a gym let alone being a gym bunny.
She told Eamonn Holmes and Ruth Langsford; 'Before I didn't do any
exercise
. I did not want to go to gym, I felt intimated as I didn't know what I was doing and I felt like people were staring at me.'
But it was all about a change in mindset, Charlotte said; 'The exercise was difficult at first but I'm so strong now, I could carry you both on my back,'
https://www.instagram.com/p/wretDsOGWf/?taken-by=charlottegeordieshore&hl=en
Don't let other people's negativity stop you
When Charlotte started her weight loss, she posted selfies in her workout gear to her Instagram page and cruel trolls would comment on her appearance; 'I'd post selfies of me in my workout gear and I'd get a lot of hate and grief on Instagram and Twitter.'
'People would say things like, "flat bum", "pancake a*se" and "you obviously don't do any squats". They said I looked like a spelk, a stick, straight up and down. It annoyed me more than anything because I'd put all that hard work in, losing the weight and then people still had a go.'
Continued below...
Charlotte reminds her followers to keep doing what you're doing and not to let negative attention stop you from reaching your goals.