Lisa Riley has opened up about the torment of living with her excess skin after her incredible 10 stone weight loss.
The actress returned to Loose Women to talk about her upcoming surgery, where she will have the 'horrendous' loose skin that she's been left with after weight loss removed.
Despite trying to rid herself of the excess skin through diet and exercise, she admitted that surgery was the only option for her.
She explained to the panel: 'I've said before that I've worked with trainers and they've said "There's no training in the world that is going to get rid of this" and I was like no, because I can start feeling - there is muscle under here - and I was working even harder. And it becomes addictive in that sense because you want more and more reaction.'
However, Lisa now admitted that she's desperate to lose the excess skin after finding there was no other way of getting rid of it.
'But the boobs, the front here - what they call the apron - is now at a point of ridiculousness. So I was nervous, I spoke to friends and family and I was like "no", there is no other alternative.
The former Emmerdale actress also revealed that she now weighs just under 12 stone. But despite being thrilled with her slimming, she said it's 'awful' looking at the skin that's been left behind.
'It's awful and it's gone worse and worse. The reflection that I'm seeing now it's just horrendous. Everywhere I go people say "you've done so well" and I find myself going "thank you, thank you" but you've no idea what it's like when I'm in my bedroom with that mirror.'
She then defended her decision, saying: 'It's my life. It's what I'm doing, which is why I think I'm so entitled to the surgery.'
Using a cardboard cut out of a woman to explain process, Lisa explained that she'll be having two operations which will pull her in at the waist and stomach as well as pull up the excess skin on her legs.
Lisa added that she's going to have the skin weighed after the surgery to note another stage of her weight loss journey.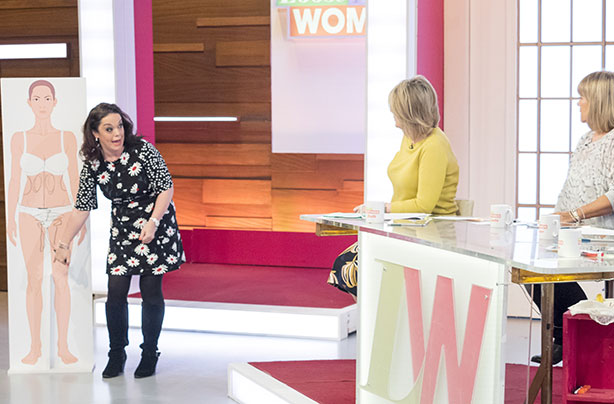 While she admitted that her family were scared, she reassured the panel saying: 'I've got a phenomenal surgeon. I love him and he makes me feel settled, he makes me feel comfy and to think that if I'm sat here at the end of March looking like lady cardboard then what a great beginning of my year.'
Lisa has previously opened up about her desire to get rid of her excess skin.
Speaking to Star magazine, the actress and TV personality said that dropping from a UK size 30 to a size 12 in less than a year had left her wanting results that she can no longer get from exercise alone.
'I've worked hard on this,' she said. 'The excess skin is mammoth. I'm getting rid of all skin on my stomach, too, because no trainer can get rid of that.
'I lost weight the healthy way. I didn't cheat. It's slow but it worked.'
Lisa, pictured in November 2016, has denied surgery or using supplements during her weight loss journey
Lisa revealed that she plans to have surgery on her breasts, as well as the removal of her excess skin, to complete the body she's spent months striving for - but added that even her progress so far has been life changing.
'The feeling of fitting into a size 12 is the best natural high in the world,' she said. 'I feel amazing.'
Last year, Lisa discussed the motivation behind her surgery plans in an interview with OK! magazine, saying that she finds her thighs 'repugnant'.
'My front and inner thighs are repugnant - they're like a sheared poodle! I can clap without using my hands because my body claps for me during Zumba.'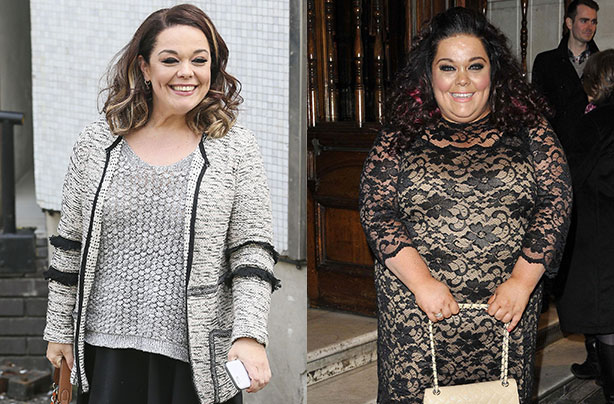 Lisa couldn't be more pleased with the results of her diet (left: in April 2016, right: in November 2014)
Lisa has strongly denied claims of weight loss surgery, and even
underwent a lie detector test
during an appearance on Loose Women to prove that she lost the weight naturally.
'I have smaller portions now,' she said. 'I don't believe in fad diets, even though I have tried them before. I have no food after 6.30pm.
'I only eat a carb if I need one and absolutely no bread or booze. I've been going to zumba classes which is fun. I find the gym is boring.'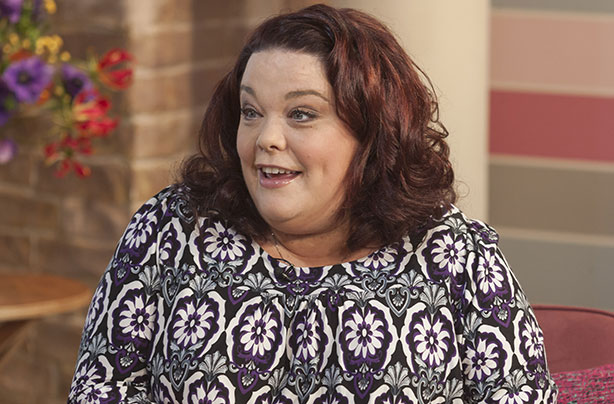 Lisa, pictured here in November 2012, has lost an amazing ten stone
The soap actress added: 'Doing Strictly [in 2012] kick started my metabolism. I saw a difference dancing seven hours a day and then I just ate soup as I didn't want all that food jiggling around while I danced.
'It's hard for me to see my reflection now. I used to have a shelf from here to here and where's that gone?
Continued below...
'It is insane. I looked so different before. I was happy before but now I am happy and proud.'