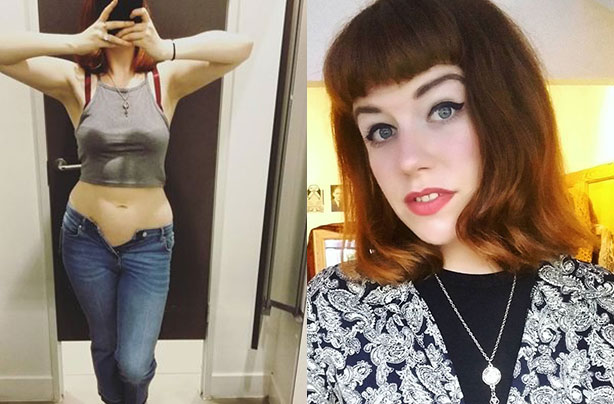 A young woman's Facebook post has gone viral after she wrote a frustrated message to H&M about their sizing.
Ruth Clemens visited the Leeds branch of the chain to try on jeans, but was surprised to find that their size 16 jeans did not fit her size 14 figure, calling the fit of the trousers she wore 'laughable'.
'I'm normally a size 14 on my hips (occasionally 16 if buying trousers) so I thought I'd try them on. It did not go well,' she explained.
'As I'm sure you're aware, size 16 is the largest size you stock (apart from in your plus size range, which is very limited in store and does not offer the range of styles for the fashion-conscious that are available in smaller sizes).
'I am not overweight (not that that should matter) and although I'm 5 foot 11 my body is pretty average shape-wise. It's already difficult enough for me to find clothes that fit well because of my height, why are you making jeans that are unrealistically small? Am I too fat for your everyday range? Should I just accept that accessible and affordable high street and on-trend fashion isn't for people like me?
'You might recognise the top I'm wearing - it's one of yours and it's a size Medium. Sort it out would you.'
The post went viral overnight, with over 10,000 shares and 76,000 reactions.
Other commenters agreed with Ruth's assessment, with one writing, 'This so ridiculously true!! I am typically a size 12 and some of the size 16 clothing didn't even fit me. I am never shopping there again because I will not be made to feel bigger than what I am!'
'Well done for raising this post. I used to love H&M but I rarely shop there now for the same reason you highlight here,' another concurred. 'I'm a size 10 and have often taken several sizes in to a changing cubicle and a 14 doesn't fit me either. I know what size I am and I'm happy with how I look. H&M need to read this feedback and hopefully like most businesses will listen to their customers and make some changes.'
H&M quickly responded to Ruth's complaint, replying in a comment, 'Hi Ruth, thank you so much for your feedback. We are sorry to hear about your experience in store recently. We always want our customers to have an enjoyable time when shopping in store and to leave feeling confident in themselves.'
'At H&M we make clothing for all our stores around the world, so the sizing can vary depending on the style, cut and fabric. We value all feedback and will take on board the points you and other customers have raised.'
However, speaking to Buzzfeed News, Ruth said, 'If H&M do size their more fashionable [and] high-end clothes smaller then they are isolating a really big part of their customer base. I'm no economist but I don't see how this can be sensible business practice.'
She also called their statement a 'cop-out', adding, 'If H&M thinks I'm too fat, too tall, that I take up too much space to wear their clothes, they're the ones who need to change.'
Continued below...
Have you had a similar experience to Ruth? Let us know in the comments box below