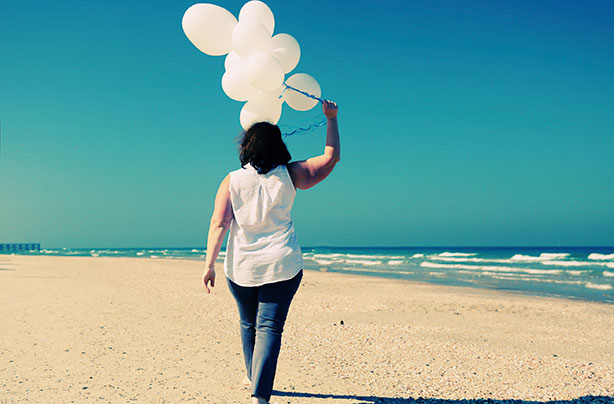 Overweight women around the world have been taking to Twitter to talk about the reactions they've experienced to their bodies - and the outcome is heartbreaking.
First inspired by a tweet from the account @yrfatfriend, which implored 'fellow fats' to open up about their experiences with dating, the thread has since become a conversation about how being fat has affected almost every area of their lives.
Okay, fellow fats, let's hear about your awful dating stories. First dates, LTRs, they're all welcome. #FatSideStories

— Your Fat Friend (@yrfatfriend) August 9, 2016
Many of the initial tweets were about relationships as suggested, with stories ranging from comments from husbands to negative responses on first dates. One woman explained that she'd been texting a man for two weeks, and when they met, his only words were 'You didn't say you were fat!'
#FatSideStories getting told I 'did good' because my husband is thin and attractive and I somehow 'trapped' him as a fat girl

— Kitty Rambles A Lot (@kittyrambles) August 9, 2016
#fatSideStories I was @ the grocery with a new bf and he commented on the fruits I was buying. "How do you still look like *this*?" #dumped

— Pam Culver (@geektofit) August 12, 2016
When you finally meet the guy you've been talking to for weeks, and he texts afterward "You didn't say you were fat!"#FatSideStories

— Anita (@ExBandraGirl) August 12, 2016
The discussion then quickly extended to remarks from family members, particularly mothers who have knocked their daughter's confidence with constant jibes about their size.
Being 12 and having a family member pinch your tummy because you're over weight and say "I see that's still there" #fatsidestories

— Brielle 🖤💕🖤 (@Sphynxx_meow) August 12, 2016
Being told by my sister to be grateful to the man who groped me on the bus, because I need the attention. #FatSideStories

— BiFi Activation Code (@applewriter) August 9, 2016
#FatSideStories when ya own mum told you that you can't wear t-shirts because 'it shows the ugly stretch marks on your ugly body'

— astor 🐼 (@astarinthegloom) August 12, 2016
"Do you really need to be eating that?" - my mother #fatsidestories

— the samwitch (@capnsamerica) August 12, 2016
One contributor shared the story of her pregnancy, saying that people told her it was 'irresponsible' to have a child because of her weight.
When you get pregnant and people think it irresponsible for you and your husband to want kids because your fat #fatsidestories

— Sarah Jamieson (@sarah_althea) August 12, 2016
Eating was another common theme throughout the thread, particularly in public, where women said that they'd felt particularly judged for their choices, even on special occasions.
When you're too afraid to eat in front of people cos you think they'll judge you... #FatSideStories

— Just Like Keziah 🎗 (@Keziah_Styles) August 12, 2016
Skinny girl orders a burger, fries, and a shake: "she has great taste!"

Plus sized woman orders the same: "wow what a pig" #fatsidestories

— mikki (@IoveIymakeup) August 12, 2016
https://twitter.com/elxtric_emily/status/763917373107802112
Perhaps the most concerning stories were women who had avoided their doctors for fear of being criticised for their size, or experienced extreme weight bias when they had attended appointments, leading to other health concerns being missed.
Had a doctor tell me that my depression caused by my workplace/-situation was instead caused by me being fat #FatSideStories

— EMMA (@detsemma) August 12, 2016
https://twitter.com/_cheyclops/status/763991761505046530
Having the Dr. prescribe "the south beach diet" when I went in for stomach and gallbladder pain #FatSideStories

— PalominoBeauty™ (@mz_happy) August 12, 2016
https://twitter.com/KILLERCATja/status/763706872352370688
Many said that they felt their weight had put them off longer-term life goals like travel, and impacted their success in the workplace.
When you put off a lifelong dream to travel because you are afraid you won't fit in the plane's seat. #FatSideStories

— 🤓🌹April ❄️📎 (@morphisa) August 12, 2016
Wondering if you didn't get the job offer in spite of a great interview and employer interest b/c of weight #fatsidestories

— Add your name (@itsbeccakthx) August 12, 2016
Ladies taking part in the thread also reported that even when given a compliment, it felt backhanded, as though their weight was an implicit negative amidst the positive words like 'beautiful'.
And if each woman had a penny for every time she'd been told 'but you have such a pretty face'...
"You've got SUCH a pretty face!!!" - My mum, constantly. #FatSideStories pic.twitter.com/XKBrnimSoI

— I S A B E L L E (@isabellemarief) August 12, 2016
This one time I was told I had a pretty face for a big girl... Like being big instantly means you're ugly af? #FatSideStories

— Lise Staes (@lise_staes) August 11, 2016
#fatsidestories being told you have a pretty face, like the rest of you just isn't acceptable.

— Jessica Oleander (@xoxovercome) August 11, 2016
The one I hate the MOST is the comment "love your confidence" like I should be ashamed of something?? #FatSideStories

— Stinky Little Girl (@QueenReeeen) August 12, 2016
Continued below...
Can you relate to any of the experiences from the #FatSideStories hashtag? Or do you have a story of your own you'd like to contribute? Let us know your thoughts in the comment box below.