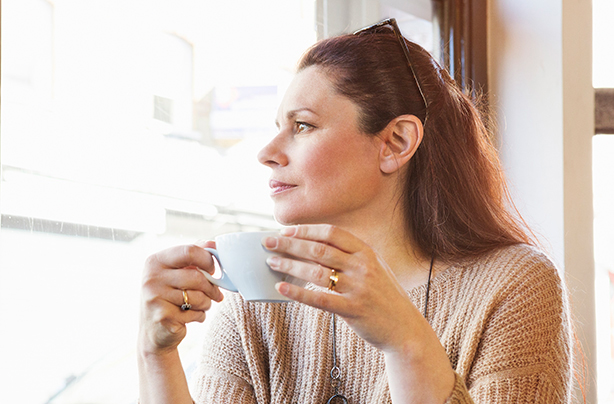 Vaginal dryness
can make you feel miserable. It can cause discomfort, and embarrassment, with itching and irritation around the vagina - and, worse, it can make sex painful.
With the right solution, you can relieve the discomfort. 'The most common cause of vaginal dryness is a decrease of oestrogen, most commonly caused by the menopause,' says Dr Rosemary Leonard, 'but it can also occur when using tampons, especially at the end of a period. It can also occasionally occur as a side-effect of some medications and, more rarely, in some medical conditions.'
Surprisingly, it is very common, with more than half of post-menopausal women aged between 51 and 60 years experiencing vaginal changes during the menopause [1]. But younger women can be affected too, with around 17 per cent of women aged 18-50 having problems before the menopause [2]. This can be as a result of breastfeeding, when oestrogen levels are low, or as a result of stress, which can affect women at all ages.
When to seek professional help
If you're experiencing vaginal dryness regularly, you should see your doctor or practice nurse, who will help clarify the cause of the problem and determine what treatment would be best for you.
'Your health care professional most likely talks to women about this subject on an almost weekly basis,' says Dr Leonard, 'so don't be embarrassed - just take a deep breath and talk to them about your symptoms. It might also help to write them down to take in with you as well as any questions you may want to ask.'
While for some women vaginal dryness is a temporary problem that rights itself naturally, for instance when breastfeeding is stopped, for others, like those whose condition is affected by the menopause, there is no cure. So in these cases treatments have to be long-term.
Solutions and treatments for vaginal dryness
'The best treatment for dryness depends very much on personal preference following guidance from your GP,' says Dr Leonard. 'One option is to boost oestrogen levels, either with HRT or with creams or pessaries designed for use in the genital area. You can also help prevent dryness by never douching, as it simply washes away what little moisture there is!'
A lubricant can help to make your intimacy more comfortable, and there are several different types to choose from. Water-based lubricants are the most common type and can be bought over-the-counter, with many different brands to choose from.
But lubricants have only a temporary effect, so a vaginal moisturiser will be more effective at tackling the problem. A vaginal moisturiser like ReplensMD will soothe irritating and embarrassing symptoms straight away and help to maintain vaginal health. The UK's number one GP-recommended vaginal moisturiser,* it's ideal if you want an oestrogen-free alternative.
'It is important to choose a product that has been proven in clinical studies, like ReplensMD vaginal moisturiser,' says Dr Leonard. Free from added perfumes that can cause irritation to the delicate genital tissues, ReplensMD vaginal moisturiser gel soothes and treats symptoms of vaginal dryness delivering continuous moisture for up to three days of immediate and long-lasting relief in just one application.'
As well as replenishing vaginal moisture, ReplensMD helps rejuvenate dry vaginal cells, and supplements the body's natural moisture, giving immediate relief from all those uncomfortable symptoms. ReplensMD also increases the elasticity of the vaginal lining cells and helps to maintain vaginal health.
There's no need to put up with vaginal dryness, when there's an easy solution, so talk to your GP or pharmacist - and, for convenience, ReplensMD is also available over the counter.
Find out more
ReplensMD is widely available from
Boots
and other independent pharmacies, priced RRP £6.26 for up to a one-week supply; £10.62 for up to 2 weeks supply and a 35G tube at £10.62 for up to 4 weeks supply.
Visit
Replens.co.uk
for more details and advice on vaginal health.
[1] Source: Menopause Matters Survey 2006
[2] Source: Laumann EO et al. Sexual Dysfunction in the United States. Prevalence and Predictors. JAMA 1999; 281(6): 537-544
GPRX data - from June 2015 to May 2016 - UK coverage