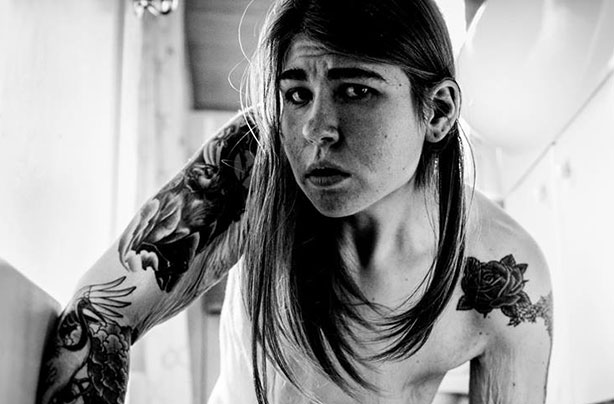 A woman's self portraits have gone viral after depicting the true after effects of losing a dramatic amount of weight - including significant excess skin.
Photographer
Samantha Geballe
, from California, began losing weight after a gastric band operation in 2013, and has been documenting the changes in her body ever since.
'I had been photographing myself for some time before I had a gastric bypass,' Samantha told Metro.co.uk. 'It became a way of coping with life, and a way of expressing myself non-verbally. I could talk without saying a word.'
'I think it would've been a disservice to myself and the project if I hadn't continued throughout the process and well after surgery.'
She adds that her journey with her body has not been an easy one: 'I can't stress how difficult the transition has been. I often feel like I was born at 28.'
'I probably haven't weighed this little since I was 10 years old.'
One of the trademarks of her images are the creative poses that she adopts, showing her body in many different shapes and shadows.
In an earlier interview with Refinery 29, Samantha said: 'My body and gravity is fascinating to me. It's a glimpse into what I would've looked like if I had grown up an average weight.'
'My skin pools and pulls from me. There are times that it seems like it's running away. I have come to love my skin. It is part of my story, and at least for today, it's here to stay.'
The photographs were originally a project that Samantha kept to herself, as they are so intimate and intrusive, but she has gradually built the confidence to introduce other people, including her partner, to her work, and now hopes that the images will build both her own self-acceptance and a connection with others.
'I think that vulnerability is key to learning to understand one another better,' she explains. 'I greatly wish more people could come from a place of understanding.'
Samantha's work has garnered supportive comments from around the world, with one admirer writing: 'You are one of the most courageous human beings I have ever come across in art and photography.'
'Your work is striking and beautiful and, I'm proud, as a fellow human being to know that you are creating and offering this viewpoint. Just in awe.'
Continued below...
Another commenter agreed: 'You are truly inspiring. I wish I had the guts to document myself.'