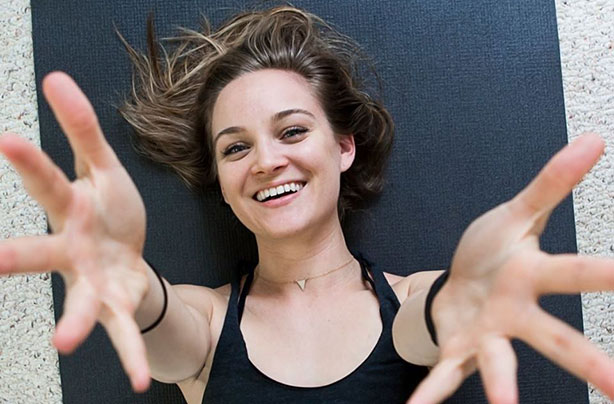 A fitness blogger has showed an empowering message that encourages women to celebrate their cellulite and stretchmarks.
Erin Motz uploaded the post to her Facebook page Bad Yogi, explaining that she wanted to shatter the illusion of perfection that's often presented in the media, and instead focus on embracing the attributes as virtues rather than flaws.
'Can we talk about cellulite?' she wrote. 'A friend of mine is a graphic designer and he's friends with a photographer. The photographer took some photos of a model for a fashion website (who *might* be a size 4, by the way),
'When the model got the photos back, she was insecure about the fact that there was cellulite on the back of her leg and asked my graphic designer friend to edit it out before they were published.'
Erin stresses that she knows that the editing of images perpetuates unrealistic expectations - 'But who perpetuates them?' she asks.
'Do we see our own dimples and "imperfections" (I'm hesitant to use that word, but for lack of a better one, I'll use it) and cringe? What if we saw these "perfect" images and saw them for what they are: edited images intended to highlight an item or idea, NOT represent what a body should look like.'
'My point is that change in perception starts with US. It starts with YOU!'
A 'super petite' girl herself, Erin adds that she too has cellulite and stretch marks, and that they're nothing to be ashamed of.
'It's like having eyebrows or ears. They're just there!' she exclaims. 'If you have a body, you have these other things too.'
And it's not just a mantra for women - she says that her partner, whom she affectionately calls 'The Frenchman', is proud of his stretch marks too.
'He walked into the living room after a workout the other day, proudly flexing his biceps and said, "See that?" and pointed to a stretch mark on his shoulder. He goes, "That's NICE!" I was totally dumbfounded and said, "You WANT stretch marks? Like, where people can see them?!" And he goes, "Hell yeah, it means I'm putting in the work. Every guy who works out wants "hat, it's like a trophy."'
'I can get on board with that perspective ;) Your entire body is a trophy. Be proud, always!'
Erin's followers were quick to applaud her body positivity, with one saying: 'Love this! It's like crease lines at the lip and eye... far from being something to loath as a sign of age, it means you have had a life blessed with plenty to smile at.'
Continued below...
'I find real and unfiltered women amazingly beautiful, because nothing is perfect,' another agreed. ''When I see celebrities on magazines I just cringe, because I know how altered they are. Acceptance begins with yourself first.'