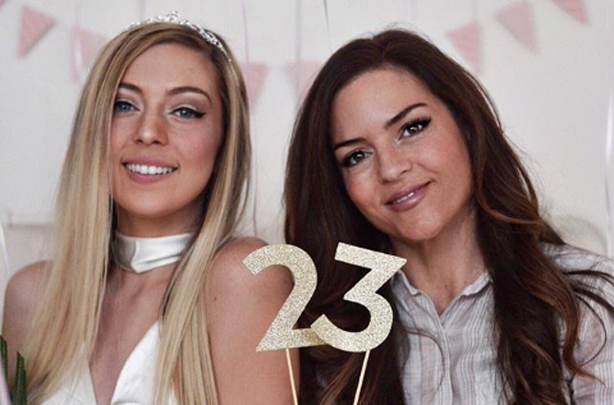 Mum-of-seven Jessica Enslow has been completely astounding her followers on social media with her incredible fitness transformation photos.
The fitness and lifestyle blogger shares incredible photos of her amazing transformation on Instagram with her 124,000 followers, and shares her tops tips on getting (and staying) in shape so other people can try and replicate the amazing results she has seen through exercise.
However, as well as being in fantastic physical shape, Jessica also looks amazing too with an enviable youthful glow. The 43-year-old looks so good that in a photo she posted last year with her daughter Alyssa on her birthday, some people couldn't work out which one of them in the picture was turning 23!
'Who is the mother over here?' wrote one austonded follower, while someone else said, 'I refuse to believe that you guys are mother and daughter!'
'What?!?! Your 43! Amazing, you look amazing' commented another of Jessica's followers, while someone else wrote, 'What's your skin care secret, you are looking so young!'
After giving birth to her first baby at 19, and at 43 being a mum to seven kids, Jessica knows as well as anyone that pregnancy and birth takes a serious toll on your body.
So, what is her secret to looking so good and so young after seven kids? Firstly, the loving mum is careful to nourish her body with the right foods – so plates full of protein like
chicken
,
turkey
and
fish
, and only healthy carbs like whole grain bread or oatmeal.
When it comes to fruit, she's careful not to eat too much because of the carbs and sugar you find in most of them, but when she does eat fruit she makes sure it's packed full of Vitamin C! Full of antioxidants that are great for your body and skin, Vitamin C-rich fruits are great for building up your immune system, keeping you healthy, and boosting your blood circulation. All good things if you want to keep that youthful glow!
Jessica also hits the gym (quite a lot if you take a look at her Instagram!) but she emphasizes that if you're working out, you need to make sure you mix it up with cardio AND weight training.
'I was going through some pics on my phone the other day and noticed how much difference weight training makes in contouring the body' she wrote on Instagram. 'The nice thing about gaining muscle is you don't just lose it over night if you reduce your training for a period of time.'
She also drinks lots of water – and snaps herself hydrating for posts on her social media accounts. Although even this amazingly in-shape mum admits that she struggles to drink as much water as she should: 'One of my major struggles is staying hydrated enough' she revealed.
Continued below...
Inspired? We sure are! Now where did we put our cute work out clothes…