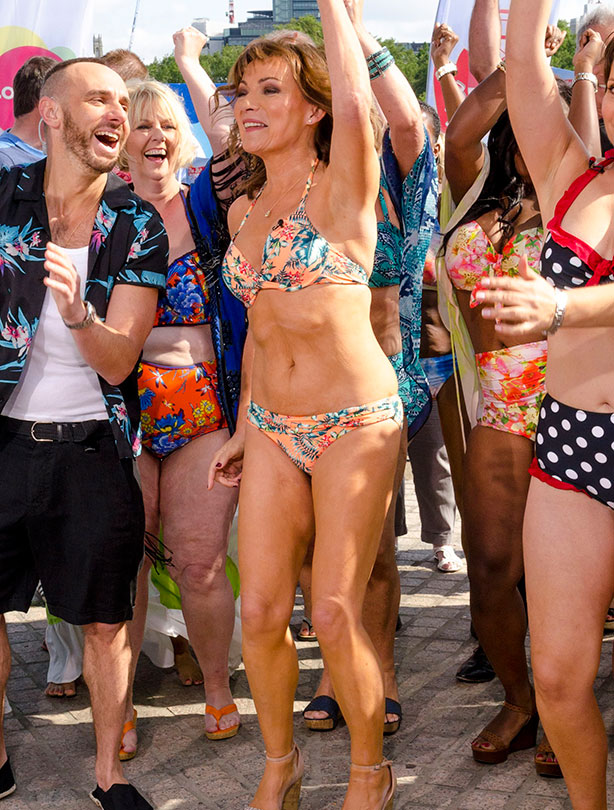 Lorraine Kelly
You've gotta love our Lorraine. The brilliant TV presenter stripped down to her swimwear live on her morning programme to show what body confidence
really
looks like!
And it's fair to say the 55-year-old mum of one looks absolutely incredible. Lorraine was joined by a group of volunteers who had all lost weight by following the show's Bikini Promise diet, and also flaunted their figures in beachwear.
The Bikini Promise was a five-week programme that encouraged the star's viewers to 'promise to be fit, healthy and wear your bikini with confidence no matter of your age, shape and size', with experts Sally Bee and Maxine Jones on hand to offer advice on everything from healthy homecooked food to exercise regimes.
Lorraine, who credits her own fabulous figure to
regular Zumba classes
, said, 'I feel I am in the best shape I have been in for a very long time. I'm a 55 year old mum and I feel that if I can wear a bikini then anyone can.'
It's not easy to look this good whilst dancing to 'Moves Like Jagger' in heels, but Lorraine smashed it!