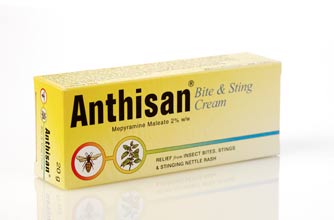 Anthisan Bite and Sting Cream
What is it?
A cream that reduces pain, swelling and irritation if you get
bitten or stung
Do I need it?
It suitable for children from 2 years old - it's a good product for your first aid kit.
How much does it cost?
£3.35 for 20g
Where can I buy it?
Supermarkets and pharmacies, or try
www.expresschemist.co.uk
More info on bites and stings
Insect bites and stings