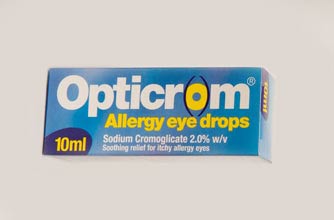 Opticrom Allergy Eye Drops
What is it?
Eye drops to treat seasonal allergic
conjunctivitis
- when your eyes get itchy and red.
Do I need it?
Itching eyes can be really uncomfortable and irritating. If you rub a lot you'll make them more sore and could get an infection - so if you do suffer from this, eye drops are a good investment!
How much does it cost?
£4.35 for 5ml or £5.35 for 10ml.
Where can I buy it?
Most pharmacies and some supermarkets - try
www.boots.com
More info on conjunctivitis
A full medical explanation from patient uk