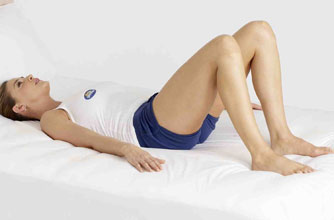 Back Wake UpHow To Do It
:
Lie on your back with your knees bent and your feet hip width apart.
Tighten your abdominals
and press your lower back in to the bed, tilting your hips upwards. Slowly reverse this, pressing your hips in to the bed and arching your back slightly. Move slowly and continuously between the 2 positions 3 or 4 times.
What's Happening:
This mobilises your spine and stretches the muscles in your trunk.
Safety points:
Do not over stretch in either position. Move slowly.