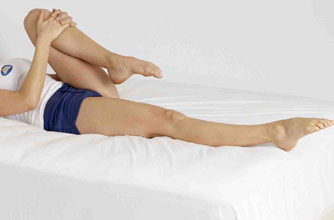 Back Wake UpHow To Do It
:
Lie on your back and lightly pull in your abs. Keeping your head on the bed, bend 1 knee and slowly bring it in to your chest. Pull it in towards your chest with both hands and hold for a few seconds - repeat 4 times on each leg.
Whats Happening
:
This
toning exercise
concentrates on the muscles in the front of your thigh and stretches those in your bum!
Safety Points
:
Keep your head on the bed!