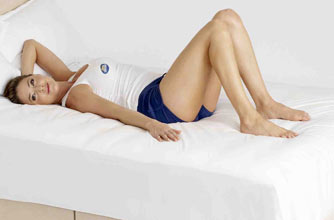 Moon StretchHow To Do It
:
Lie on your back with both knees bent hip-width apart and your feet on the bed. Place your left hand next to your head with the elbow level with your shoulder. Tighten your abs. Now, keep your head touching the bed sheets, slide your upper body to the right side and reach toward your ankle with your right hand.
What's Happening:
This
tones and stretches your waist.
Safety points
:
Need to keep light contraction in your abs.