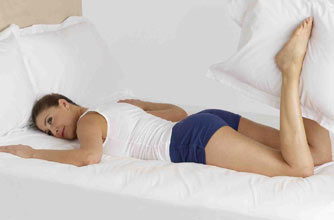 Pillow Thigh Curle
r
How To Do It:
Lie face down and rest your cheek on the bed. Holding a pillow between your feet, bend your knees, bringing the pillow slowly up towards your bum. Return slowly. Do 5 or 6 times. If it's more comfortable place a small pillow underneath your stomach. Note that your head must be resting on the bed and not on the pillow.
What's Happening:
This will tone the back of your
thighs and bum
.
Safety Points
:
Must keep forehead or cheek down on the bed.