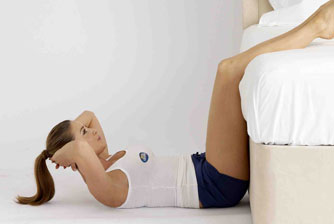 ABC Abdominal Bed Curler

How To Do It:
Lie on the floor with your hips next to the bed. Place your hands behind your head or across your chest (to support your head). Tense your abs and slowly curl your upper body off the floor towards your knees. Slowly return. Do 4-8 times.

What's Happening:
This exercise will tone your stomach muscles.

Safety Points:
Do not pull on the back of the neck. Must tense abs before raising upper body.