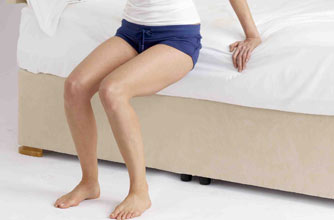 Bed DipperHow To Do It
:
Sit on the edge of the bed with your hands beside your hips. Tense your abs. Slide forward until your hips are off the bed and you're supporting yourself on your hands. Slowly bend your arms and lower your hips slightly. Straighten your arms to return. Repeat 4 times.

What's Happening
:
This will tone the back of your
arms
.
Safety Points:
Must keep abs contracted. 
National Love Your Bed Week runs from the 3-9 August 2009. For more info visit silentnight.co.uk