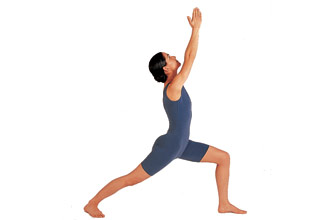 Warrier pose
Stand with your feet about 4 1/2 feet apart. Turn your left leg out by 90 degrees and turn the toes of your right foot in. Turn your hips to face your left leg and lift your arms over your head.

Drop your tailbone towards the floor and press your back heel and foot into the floor. Bring your palms together and lunge so your left knee is over your left foot. Look up and hold.

Repeat on the other side.