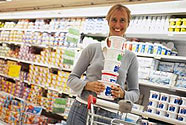 3. Low-fat, low-carb or low-sugar foods are always healthy
False:
Some low fat foods can be crammed full of sugars, low-carb dishes may be full of salt, low-sugar meals may be full of fat and so on. The things you need to look at on food packaging are sugar, fat, saturated fat, salt, calories and carbohydrates (if you're on a low-carb diet). All of these values are important to maintain a healthy, balanced diet. They are often displayed as percentages to help you with your sums. Read our
Guideline Daily Amounts
feature to find out what you and your family should be sticking to every day.