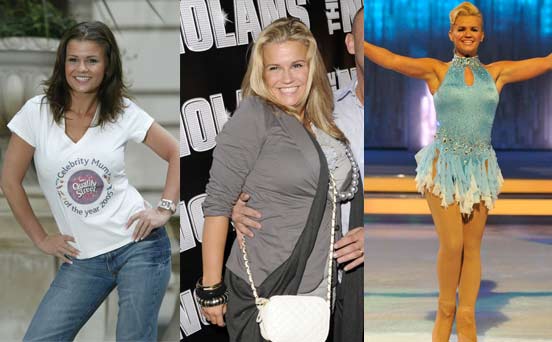 Kerry Katona's changing figure: Her weight loss in pics!
Kerry Katona's shape has seen a number of transformations over the years.
From her fresh-faced early days in 90s girl band Atomic Kitten, where she proudly flaunted her flat tummy in crop tops and tight trousers, through to her pregnancies, break-ups, marriages and even her impressive skating stint on Dancing on Ice, the bubbly singer and television personality has been snapped at a whole spectrum of different sizes at different points in her career.
Kerry, who's a mum to five children - Lilly-Sue, Molly Marie, Heidi, Maxwell Mark and Dylan-Jorge - has understandably gained and lost weight after each of her pregnancies, but other events in her life have had an impact on her figure too.
It's been reported that, since she first appeared in the public eye in 1999, her weight has ranged anywhere from around 14 stone all the way down to 9 stone, and she's used a number of different diets and workouts to get her body back into the shape she's happy with (well, for starters, we imagine whizzing around on those ice skates didn't hurt?)
Most recently, she's been hitting the gym (a move perhaps inspired by her former rugby player turned personal trainer husband, George Kay?) and has lost an impressive stone in just 6 weeks, bringing her down to her goal weight of 9st 3lbs. Want to know the best news?
We know how she got there - and it's totally straightforward and achievable for us too!
If you want to know Kerry's weight loss secrets, it's time to get clicking - here, we take a look at the 34 year old's ever-changing figure, and do some digging to find all of the answers to how she stays looking fit, healthy and happy (even after giving birth to FIVE gorgeous babies - phew!)