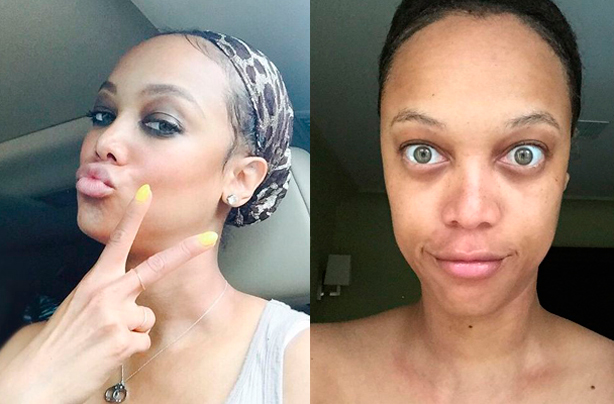 Tyra Banks without make-up
She's one of the world's most famous supermodels so it's refreshing to know that Tyra Banks looks, well, normal without make-up.
Tyra posted the snap on her Instagam page to show the difference between reality and some other 'no make-up selfies' on the social media platform.
She posted: 'You know how people say #nofilter but you know there's a freakin' filter on their pic? Or maybe there's a smidge of retouching going on but they're lying and saying it's all raw & real? Well, this morn, I decided to give you a taste of the really real me. I wanted to smooth out my dark circles so badly!!! But I was like, "Naw, Ty. Show 'em the REAL you." So...here I am. Raw. And there YOU are...looking at me, studying this picture. Maybe you're thinking, "Whoa, she looks ROUGH." And if you are, great! You deserve to see the REAL me. The REALLY real me. #RawAndReal'
Go Tyra! We think you look fantastic!