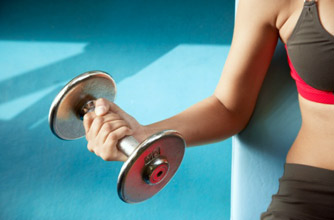 Flex and tone
We all love the easy exercises you can do while watching the telly, so try this one:
1.
Sit up straight or stand with feet hip-width apart.
2.
Hold a small dumbbell, a bottle or water or a can of beans in each hand - anything with a bit of weight.
3.
Start with your arms at your sides, flex your arms from the elbows up to the shoulders and down to your sides, repeat 10-15 times.
Want more ideas? Check out our
10 easy TV workouts