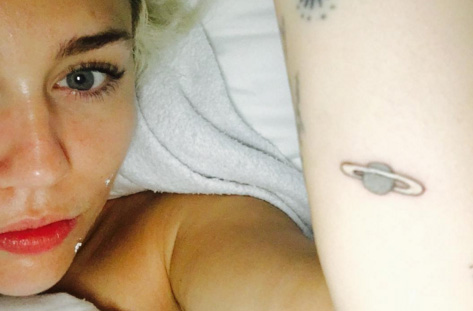 Miley Cyrus gets a 'Jupiter' tattoo
Miley Cyrus has added to her tattoo collection with a little planet on her forearm.
The singer and actress had originally captioned the snap of her new ink with a mistake, telling followers she had got a '#lilbbjupiter'. The problem there was that Jupiter doesn?t actually have rings - that's Saturn.
Followers were quick to point out Miley's mistake and the singer speedily edited her caption to silence her critics.
Before she could, however, there were plenty of comments drawing attention to her little mistake. Follower, joeycat_lreader, said 'That's pretty sad when you don't even know what tattoo you just got.' Ouch.
It's not all bad though, fans were quick to jump to her defence. One Instagram user, viniciussgabriel, wrote, 'Miley we love you, don't care about haters, in love with you tattoo❤️'.
What do you think of Miley's mini tat? Let us know in the comments below!
Image:
Instagram/Miley Cyrus