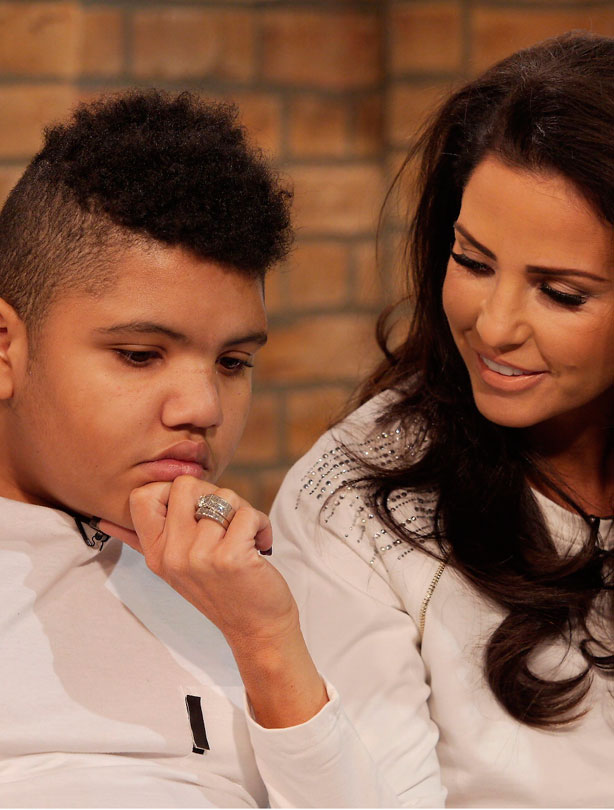 Katie Price talks about the challenges of raising eldest son Harvey
Katie Price may have had her ups and downs over the years, but one thing that no one can doubt is that she loves her five kids unconditionally.

Katie paid a visit to the This Morning studios to talk about the difficulties she has faced in raising her eldest son Harvey, who has Prader-Willi syndrome, and the bond between the pair was clear.

When asked how she copes with Harvey's condition, Katie said, 'Because he was my first, I don't know any different.'

'He is hard work, he does play up for mummy sometimes, don't you Harvey,' she said to him, to which he responded, 'yeah, babe', generating a laugh from his audience.

One of the biggest obstacles that comes with Harvey's condition is food - 'He just wants to eat, eat, eat and if we're not looking he will steal food,' Katie told hosts Ruth Langsford and Eamon Holmes. 'He's a big boy because of his thyroid and with Prader-Willi everything is about food.'

However, despite the difficulties, she says her eldest is a happy boy with a wealth of hobbies, including music and art - a talent which was evident when he presented a picture he had drawn for Eamon and Ruth.

In fact, Harvey, who is on the autistic spectrum, has difficulty walking long distances unaided, and has limited vision, seemed to take the whole studio experience in his stride, although he was clinging tightly to his mum's hand throughout the interview.

Ahead of Mother's Day, it's lovely to see Katie spending some quality time with her son - especially as she says her place will be a 'mad house' when they celebrate on Sunday!