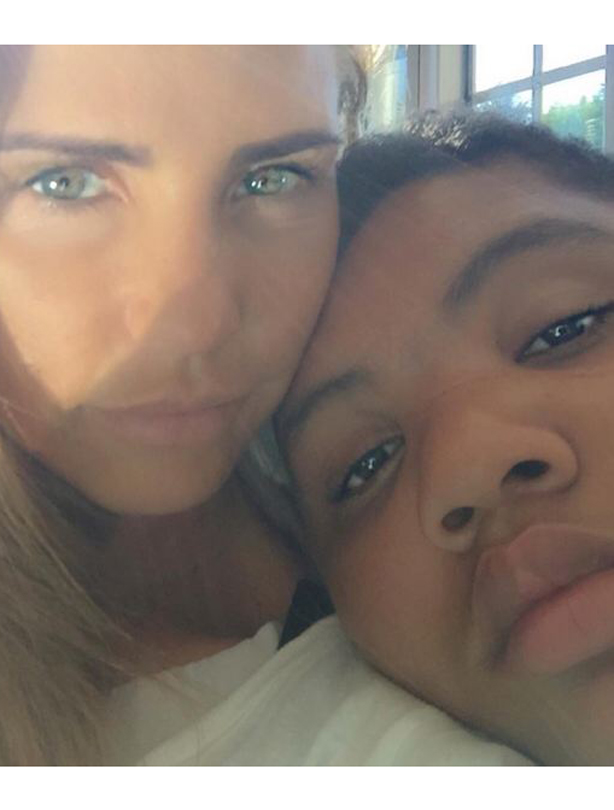 Katie Price: Her life in pictures
You might not agree with
everything
Katie Price does, but you can't deny that she's a devoted mum to her five kids, Harvey, Junior, Princess, Jett and Bunny.
And of the many challenges Katie's faced over the years, one of the biggest came when her eldest son, Harvey, 13, was born blind, with autism and Prader?Willi syndrome - which causes chronic hunger pangs that can lead to excessive eating.
Speaking recently to Rochelle Humes on AOL's series Being Mum, the 37-year-old spoke about the difficulties in raising Harvey and how she has coped over the years.
She said, 'I'm used to it. I don't know any different. When he was born, he was just normal - nothing wrong with him, absolutely fine. It's only when we did our six-week check and they did tests and he just said, 'I'm afraid it's not good news. Your son's blind.
'And we sat there and we were like, 'Oh. What happens now? What do we do now? And they're like, Well there's nothing. He's blind.' So we left that waiting room like, 'What do you do?' But thinking about it, what can you do? You just have to get on with it.
'He's on medication six times a day - if he didn't take it, he'd die. He has an injection at night.
'I can see how some people would probably find it hard because it's very challenging and stuff but I am a very patient person, laidback, and I think that makes a difference. But I just love him and I wouldn't change anything about him.'
She also talked about her desire to have more children. She said, 'I absolutely hate being pregnant, but I still want more.
'I love the chaos, madness and stress. I love the responsibility of all of my kids. I love it that they look at me, they love me, I love them. It's unconditional love. I just love it all.'
Click through to see how Katie's changed over the years, from 1996 to 2015!