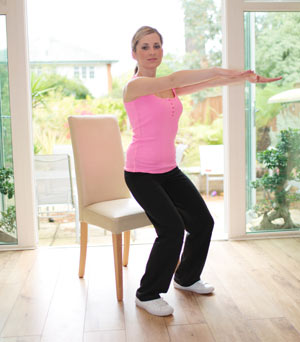 Leg exercises: Chair squat
Good for:
Thighs, hips and bum.
What to do:
Stand in front of a chair with your feet hip width apart. Bend your knees and squat down so you're hovering just above the chair then raise back up. Keep your knees inline with your toes. The chair is there to help you squat to the right level, but you can use it for support if you need a rest too!
How many:
Repeat 8-10 times and increase over time.
Make it harder by:
Getting rid of the chair and squatting lower.
10 ways to keep fit at work