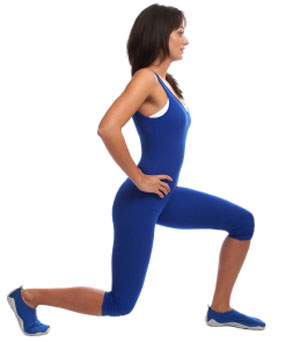 Leg exercises: Lunge
Good for:
The front of your thighs and your bum.
What to do:
Stand with your feet shoulder width apart. Step forward with one leg and as you step, drop your back knee down so that you're in a lunge position. Keep your back straight and your front knee inline with your toes. Don't let your back knee touch the floor.
How many:
Do 12 lunges (6 on each leg), have a rest for a minute and then do 12 more.
Make it harder by:
Holding dumbbells (or tins of beans) in your hands, and curling your arms up to your shoulders on each lunge.
10 ways to beat bingo wings