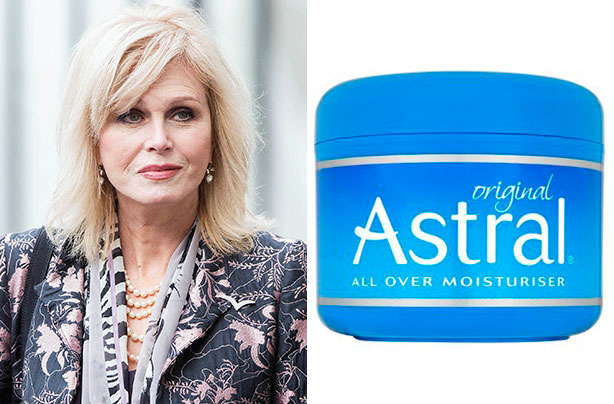 Joanna Lumley
We love a retro beauty product here at GoodtoKnow, which is why we were just so excited to discover Joanna's bargain must-have!

Astra, an all-over moisturiser that's been around since the 1950s, is a beauty staple for many celebs including Kate Beckinsale, Patsy Kensit, TOWIE star Sam Faiers and, of course, the lovely Ms Lumley! She says:

'It comes in a little blue pot, cheap as chips - adore! It has never been tested on animals, and is about the only thing I've never developed an allergy to.'

This isn't the first time the Ab Fab star has been caught raving about the little pot of cream. In the past she said: 'I'm thrilled to try all sorts of face firmers and wrinkle-reduction creams, but the one I always come back to is plain, simple Astral cream.

'I've used it for over 35 years and it just works for me. I also use lashings of Astral moisturiser to take off make-up. I travel everywhere with a little pot of Astral in my bag.'

With a 200ml pot of the cream starting at as little as £1.94, you'll have to fight us for it!