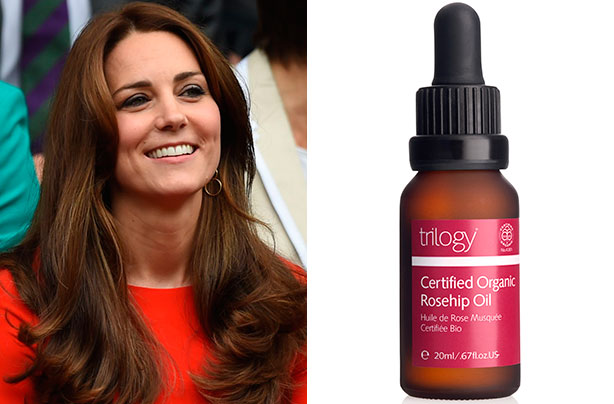 Kate Middleton
If this little red and brown bottle holds the secret to Kate Middleton's permanent glow, then ladies, get in line!

Kate is said to be a huge fan of natural oils, and Trilogy's Organic Rosehip Oil, £16.50 - known for its moisturising, softening and brightening properties - is reportedly one of the Duchess' absolute favourites. In fact, she loves it so much that, according to US Weekly, she used it throughout her second pregnancy - even converting mum Carole.

'Kate is very cautious of products and treatments,' a source told the magazine back when Kate was expecting Charlotte. 'Baby's health comes first. Kate continues to use rosehip oil in her daily skincare regiment. She loves the effect is has on her skin.'

Deborah Mitchell, Kate Middleton?s facialist, explains why the mum of two is such a devoted fan: 'Rosehip is perfect for all ages and skin types, including those with sensitive skin conditions like rosacea and acne. I add a drop to moisturiser to boost the results - Kate loves it because it gives skin a luminous glow'.