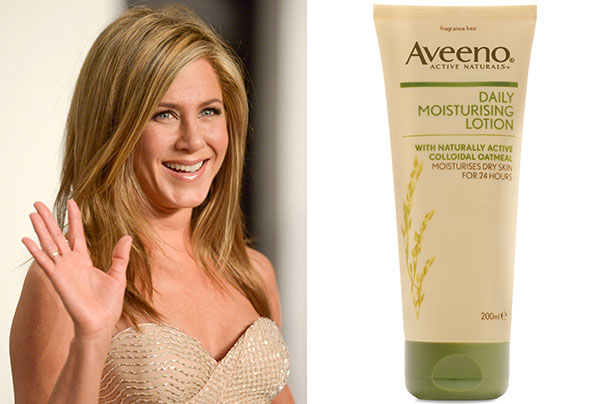 Jennifer Aniston
Ms Aniston looks incredible for her age (46 - we know, we couldn't believe it either!). It would be easy to put it down to expensive treatments and pricey products, but in fact, her beauty staple is a LOT cheaper than you'd think...

Jennifer has revealed she's a huge fan of Aveeno products (their £5.10 Daily Moisturising Lotion in particular), due to their natural, oat-based ingredients.

'Oats are very healthy. We eat oatmeal because it is a well-balanced breakfast thanks to the ingredients in the oat - it has antioxidants, it has lipids, it has vitamins. All things that are great for your skin,' Jen explains.

'My mum told me to moisturise constantly so I?ve taken care of my skin since high school and used Aveeno Daily Moisturising Lotion ever since I was a teenager.'

Well they do say mums know best... And if Aveeno is the secret to Jen's flawless skin we'll be bulk-buying some!