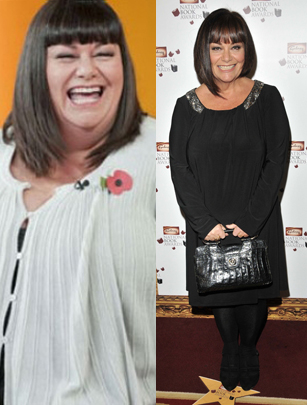 Dawn French: May 2015
One of TV's funniest and best-loved stars, Dawn French has always been a larger than life character, especially in her role as the loveable Vicar of Dibley.

Dawn has steadily grown in weight since first starring on our screens in 1983. She once topped the scales at 19 and a half stone, however, in 2014, she revealed that she's since lost a staggering seven and a half stone due to health complications. Speaking to her audience for her one woman show back in June, it seems a cancer scare was behind her decision to lose the weight.

Her doctor was worried the star had uterine cancer, and although the results of a first biopsy came back clear he ordered a second one which prompted Dawn's decision to have surgery to remove her womb.

'When I was due to have my hysterectomy the doc told me that if I could lose some weight before the op, they would be able to do it via keyhole, and I would recover in three weeks or so.

Her secret? 'No magic wand, just tiny, joyless low-cal eating and lots more walking for weeks and weeks. It was grim. I lost seven-and-a-half stone. I could have the keyhole surgery. Great. That?s all it was, practical.'

It's refreshing to hear a celebrity find weight loss success without turning to an extreme, fad diet, instead opting to lose weight the proper way - slowly and steadily, eating healthier and getting more exercise. We salute you, Dawn!