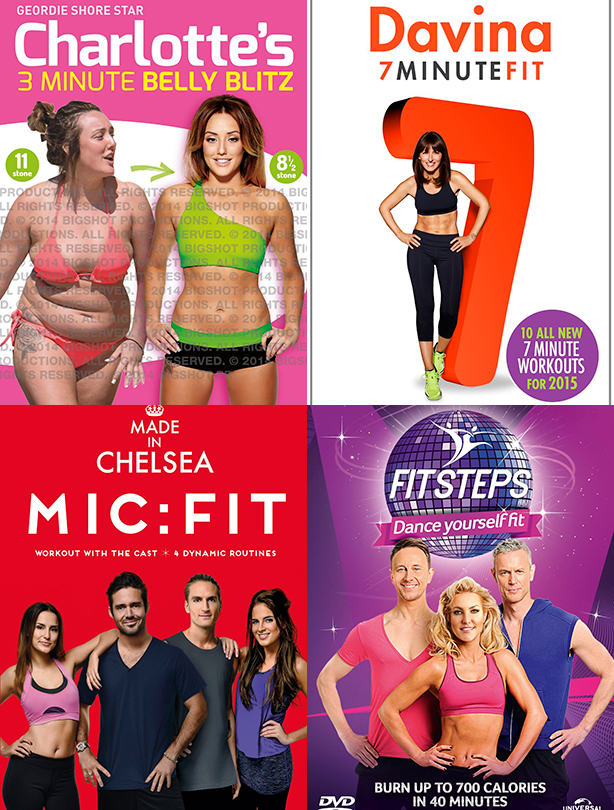 The best fitness DVDs for 2016, revealed!
Get ready for your brand new body in 2016 with our round-up of the best fitness DVDs.

Exercising at home with a DVD couldn't be easier, and it's cheap too. Just clear a little space in the living room, lace up your trainers and get moving. You'll be burning calories in no time - and you don't even need to leave the house (no make-up and no sweaty, embarrassing bumping into friends, yay!).

You could even invite a friend over to do a fitness DVD workout togethe - what could be better than getting fit and chatting with your friends at the same time?!

Whether you're better exercising in short bursts or long slogs, if you prefer dancing around the living room to Latin-inspired tunes or pop, these fitness DVDs have got something to suit everyone. There's plenty of TV star faces you might recognise amongst our round uop too, including Charlotte Crosby's '3 Minute Bum Blitz' and Lauren Goodger's 'OMG! Workout'.

Exercising regularly releases happy chemicals so you'll be less stressed, have more energy, feel happier and sleep better at night too. Not many DVDs can promise that!

Find the best fitness DVD for you by clicking through the latest releases and some old favourites too...