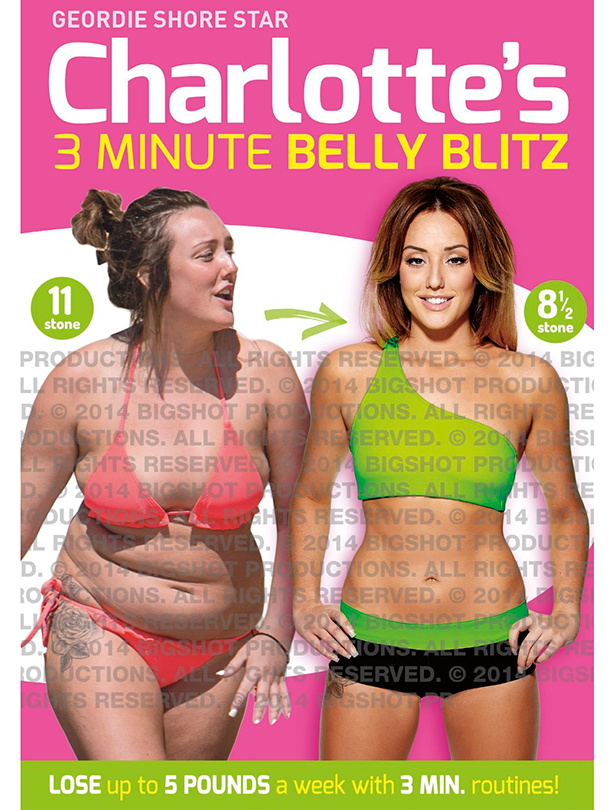 Charlotte Crosby's 3 Minute Belly Blitz
Reality TV star Charlotte Crosby's fitness DVD, 3 Minute Belly Blitz, not only topped the charts but became the biggest selling workout DVD in 15 years when it was released. It's even sold twice as many copies as Frozen! Charlotte lost a staggering two and a half stone following the routine. But what's it all about?
The DVD says:
'Woo-Hoo!!! Reality Star Charlotte Crosby's blitzed her 'triple ripple' belly with intense 3 minute workouts! Now she'll help you blast off up to 5 pounds a week from all over your body!
Richard Callender from ITV's Biggest Loser devised these 'short, sharp, shock' workouts. Join him, Charlotte and weight loss expert David Souter.'
Who's it good for?
Those whose problem area is their stomach. This work out specifically focuses on losing inches across the waist and stomach area by building on the routine every time you use the DVD, working through 12 stages.
There's also a handy, healthy eating plan included.
Buy
Charlotte Crosby's 3 Minute Belly Blitz
from Amazon