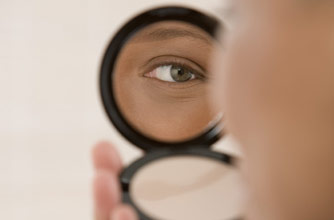 Less is more make-up wise
If you're worried about the lines around your eyes avoid any heavy make-up and follow these 5 simple beauty tips:

1. Swap your black eyeliner for brown – it's much softer on your eyes.
2. Concealer should only be used on the inner bit of your under-eye and avoid any light-reflecting cover-ups as these will highlight your dark circles rather than disguise them.
3. Ditch the eyeshadow unless it's very subtle and avoid glitter and anything too shimmery at all costs.
4. Curling your eyelashes will open your eyes making them look wider and brighter in seconds. Always take off your eye make-up before bed!