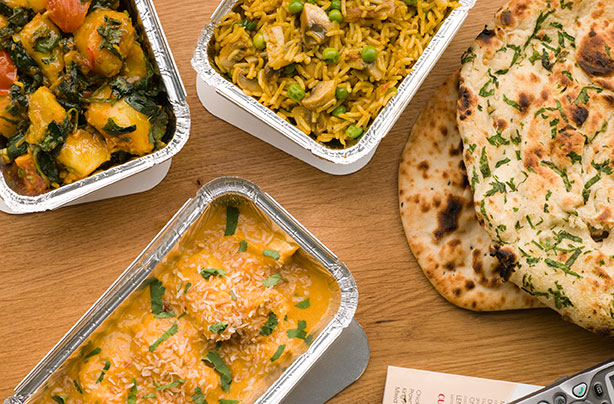 Calories in Indian takeaway
Lamb rogan josh: 525 calories, 30.5g fat
Chicken korma: 432 calories, 26.8g fat
Chicken jalfrezi: 385 calories, 20g fat
Chicken tikka masala: 384 calories, 24g fat
King prawn balti: 277 calories, 20g fat
Poppadom: 35 calories, 1.5g fat

Make it healthier: These figures are based on half an average takeaway container, but it's clear that tomato sauces will always be healthier than creamy ones, and chicken and fish tend to be preferable over fatty meats like lamb. Avoid pilau rice and go for the boiled option instead - you could even save some money by cooking your own wholegrain rice at home. Be wary of fried side dishes like samosas (144 calories and 7.9g fat each), and ditch the garlic naan (395 calories, 9.6g fat) for a much lighter chapati (129 calories, 2.9g fat).