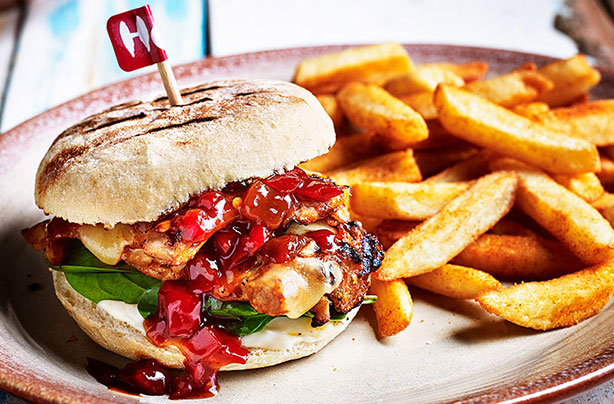 Calories in Nando's
Grilled chicken burger: 388 calories, 8.3g fat
Regular chips: 380 calories, 14.2 g fat
Supergrain salad: 338 calories, 19.6g fat
1/4 chicken breast: 299 calories, 8.6g fat
Regular spicy rice: 227 calories, 5.9g fat
Macho peas: 168 calories, 10.4g fat

Make it healthier: It's actually not to hard to make healthy choices at Nando's - they have lots of nutritious sides, including corn on the cob, sweet potato wedges, and chargrilled veg, as well as a selection of genuinely tasty salads, so it's definitely worth considering ditching the chips. Again, going bunless will cut your calories count, and chicken in itself is actually fairly lean. Provided you restrain yourself from drizzling too much extra sauce on your meal, you could even have a 70 calorie frozen yoghurt for dessert!