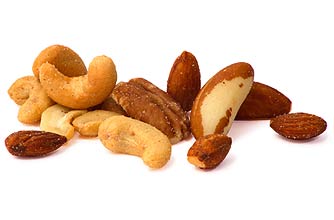 Eat nuts
Cashews, peanuts, almonds... We absolutely love snacking on nuts. And now the health benefits make them more tempting than ever!

We're not just talking about our waistlines here. According to a recent Dutch study, eating half a handful of nuts every day could substantially lower the risk of early death. Previous studies had shown that nuts helped with cardiovascular issues, but now scientists have looked at the impact of certain nuts on certain diseases.

In the study, 120,000 55-to-69-year-old men and women consumed at least 10g (0.3oz) of nuts or peanuts a day. They found that there was an average 23% lower risk of 10-year mortality across all diseases, including neurodegenerative disease, respiratory disease and diabetes.

Unfortunately this doesn't apply to peanut butter, though, so pop that jar back in the cupboard guys!