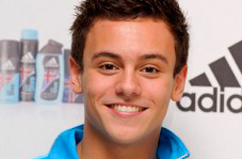 Tom Daley
Eat the right things
Young diver
Tom Daley
follows a tough training regime, exercising for at least five hours every day. Before he heads off to morning training, Tom eats a small bowl of bran flakes for breakfast. Cereal is packed with iron and fibre - without it he wouldn't have the energy to maintain that amazing six pack!
Workout like Tom...Always have a healthy breakfast. Watch out for the hidden sugar in cereals though, check
our best and worst cereals guide
for the worst offenders.