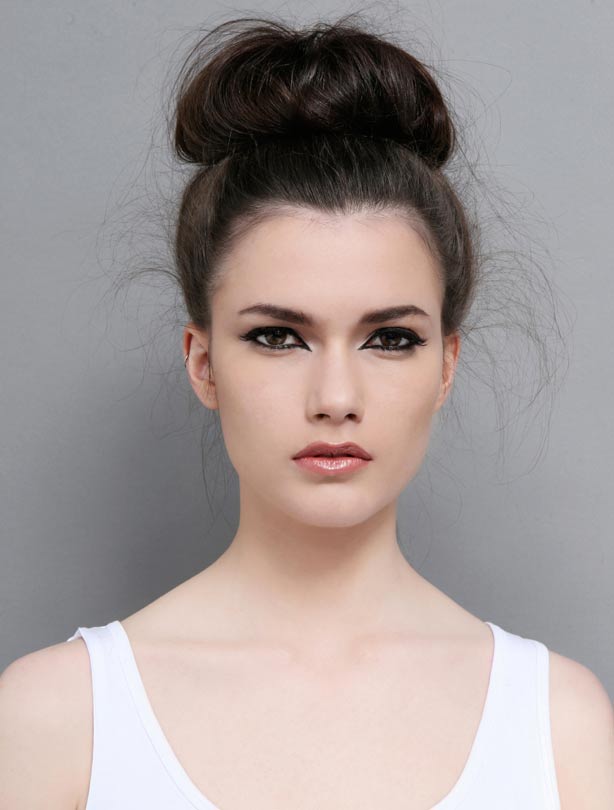 Hairstyles: High Bun
Hairdresser Lee Stafford says:
'An effortless, easy style to go for this party season.'
Step 1:
'To get this bun look, firstly pull your hair back into a very tight ponytail at the crown of your head and secure with a snag free hair band. A great tip to get a flyaway-free pony is to spray your hairbrush with a spritz of my
Poker Straight Dehumidifier
(£5.99) and then using the brush ensure that no hairs escape from the band.'
Step 2:
'Rough up your ponytail with a bit of back-brushing to get some added volume - this is especially important if you have naturally fine hair. If your hair refuses to beef itself up then try using a
doughnut bun ring
, which is an easy way to cheat a big fat knot!'
Step 3:
'Twist the pony in one direction until hair winds round on itself, and then, tucking the end of the pony under the main body of the bun, pin down securely with hair pins. For a more relaxed look leave some sections loose within the bun so they give a tendrilly effect.'
Lee's top tips:
'Remember to use pins that match the colour of your hair so that they are well camouflaged. To add detail, simply wrap the top knot with a length of thin leather or strip ribbon.'
Hair by Lee Stafford.