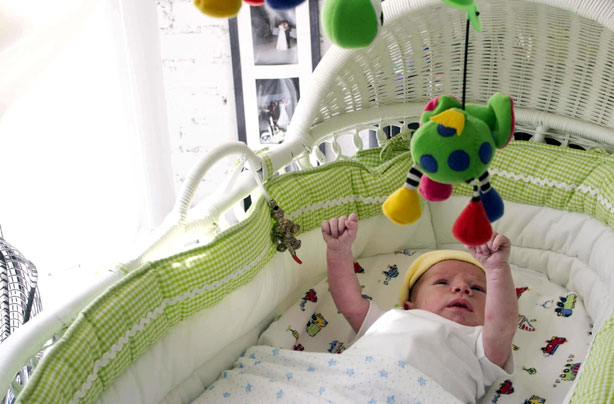 13. Scraps of material as a baby mobile
If your hubby has two bits of stick-like wood somewhere in the garage, you can use these to form the base of a handmade mobile for your baby. If they're already sanded and smooth, then great, but if not, make sure you do this first. You don't want any nasty splinters falling down on baby's head! Next, nail, or glue (as long as they're really secure) the two bits together into a cross shape. You can either leave them plain, stain, or paint them and once they're dry, you can start hanging your items.

As for what to hang... booties, teething rings, light-weight toys, scraps of felt and paper shapes are all great options. To attach the items to the base, tie a piece of thick string to the middle of the crosspiece, then a piece at each end of the crosspiece, (up to 2 per side), and make sure it balances. Finally, fix the crosspiece to the top of the cot, or the ceiling, so that it comes down level with your baby's chest, but make sure baby can't reach it to pull things off. Mobiles should always be removed when a baby is able to sit up.