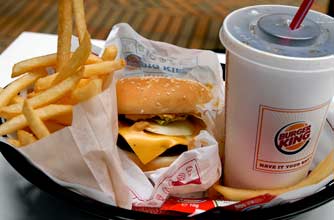 And two things to avoid: Junk food and alcohol
You might be craving junk food and a glass of wine, but sugary, salty foods and alcohol won't make your period any better. Your blood sugar will just end up spiking then dropping so you'll feel even worse. Scientists also think women get drunk more quickly when they're on their period. The salt from junk food makes your body hold on to water too. Plus, greasy chips or burgers aren't great for your skin.
Did you know?
Sorbet or ice cream is the best thing to eat if you're craving something naughty because it will satisfy your sweet tooth quickly.
Where to next?
-
The best magic underwear, from £5
-
12 ways to thinner thighs
-
10 energy foods