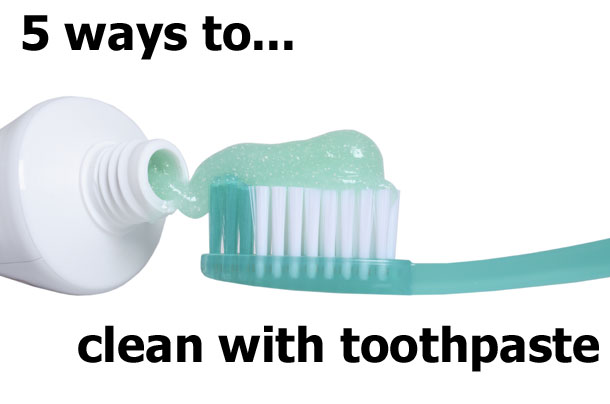 How to spring clean your home using toothpaste
You might run out of cleaning products but I bet you'll always have a tube of toothpaste in your bathroom. Although it's not a natural product it's definitely one that has a super cleaning power and often its cheaper than expensive products too!

1. Taps - Squirt a pea sized amount of toothpaste onto an old toothbrush and use it to cover the taps. Leave it to get to work for 5 minutes and then use the toothbrush to scrub it off - shiny taps and no extra armwork!
2. Do you have any silverware? Then put a small amount onto a washcloth and use it to rub it up. It will be shining in no time.
3. Use it to remove scuffs on leather shoes. Squirt a dab on to the scuffed area and rub with a soft cloth. Wipe clean with a damp cloth and the leather will look like new.
4. Use it to scrub the gunk off the bottom plate of your iron. Add the toothpaste to a cool iron, scrub with a rag and then rinse clean.
5. Do your kids like to make like Piccaso and decorate your walls with crayons? Well toothpaste could be your saviour. Squirt a small amount onto a tooth brush and start scrubbing the wall. Rinse with water to clean the surface.

Do you have a top cleaning tip using toothpaste? Tell us in the comment box below and we can add it to this page!