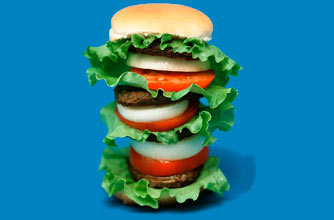 Eating man-sized portions
What's the habit?
We all know what it's like, when you're serving up dinner for the family and you're starving hungry. Pouring yours and your other half's dinner out means you can easily end up having about the same amount as him. But, as we all know, the recommended daily calorie intake for women is 2000 calories, and for men it's 2500 - so, it's important to not fall into this trap!

How to break it:
If you're unsure of correct
portion sizes
then invest in a decent pair of electric scales - they'll really help as you won't be able to guesstimate things anymore.