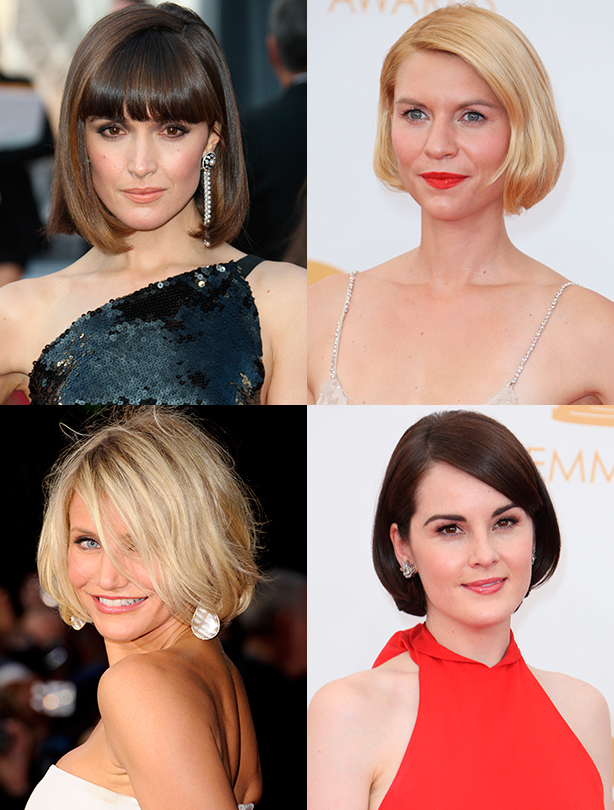 Best bob hairstyles
The bob is a classic hairstyle for women, it's grown up, sophisticated, sexy, easy-to-wear and suits practically every woman.

Thinking of going for the chop? According to stylists there is a rule you can adopt to find out if chopping your hair off will suit you: the 2.25-inch rule!

International Training Director of Color Wow Giles Robinson, says: 'It's all about the angles. The Rule was created by John Frieda, and it is a fool-proof guide for hair stylists to use so they can tailor the cut to make the length as flattering as possible to the face shape.'

So how does it work? Take a ruler and a pencil and place the pencil under your chin horizontally. Pop the ruler under your ear vertically - the intersection of the pencil and ruler should indicate a measurement. If it's less than 2.25 inches, then, like Halle Berry and Katie Holmes, your face is made for short hair. If it's more, like Sarah Jessica Parker, then long hair will be the most flattering choice.

In honour of the bob, we've rounded up a gallery of all our favourite bob hairstyles, with a little inspiration from some of the best bobs in celebville. And who knew there were so many? And in so many different styles, lengths and colours?

Having a good bob hairstyle is all in the length, typically starting from either just under the ears or just lightly brushing the shoulders, or somewhere in between. Have a flick through our gallery of bob hairstyles to see how the celebs are wearing theirs and get some bob-spiration of your own! From sleek and straight, wavy beachy styles and some volumous bobs, this gallery of bob hairstyles is bound to have something that takes your fancy.

And are you looking to re-invent your bob? How about taking some inspiration from Jennifer Aniston's choppy one, Rihanna's bright red bob, or Jessie J's 40s style one? Just a few simple changes like adding a fringe or some layering could completely change your look.

Which is your favourite of all these bob hairstyles? Be sure to let us know in our comments section below, and don't forget to print out the bob you like and take along to your hairdresser!